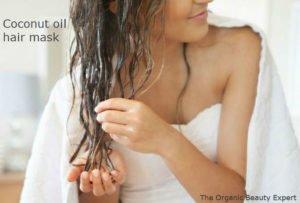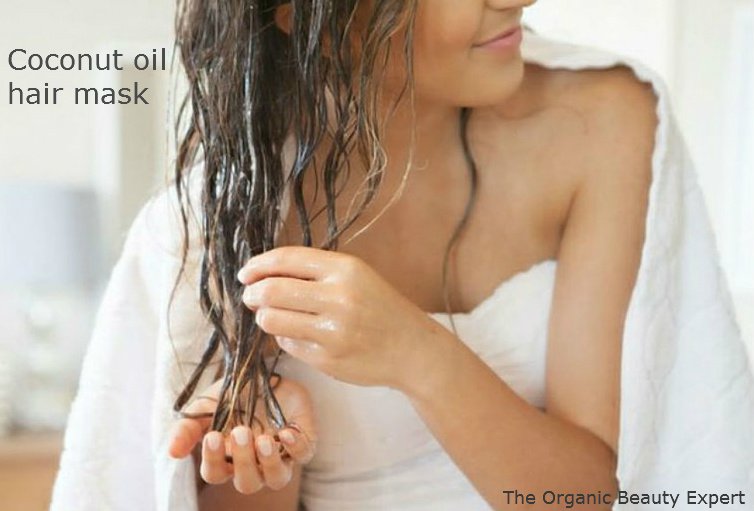 With so many expensive and unproven beauty products out there, it's always great to realize that there are loads of fantastic natural ingredients you can use to make your own.
Coconut oil is an amazing substance. It's one of the most effective natural beauty products, and is used in a multitude of off-the-shelf items, from shaving creams through to skin moisturizers.
One of most popular things you can do at home for very little money is a DIY coconut oil hair mask. Cheap to buy the ingredients, easy to make and fantastically effective, it's little wonder that so many people have turned to coconut oil to strengthen their scalp and hair.
Why is Coconut Oil so Effective for Hair?
Coconut oil is amazing for your hair because it contains fatty acids like linolec and lauric acid, which greatly benefit both the hair and scalp.
On top of that, coconut oil makes the best base for a hair mask because it also contains vitamins, especially vitamin E.
Because coconut oil is so rich and easily absorbed, the beneficial ingredients in it seep straight into your hair and scalp giving you instant health and beauty benefits.
The benefits coconut oil brings to your hair:
Adds shine, tames frizz, and smooths out flyaway hair
Promotes strong hair growth when massaged into the scalp
Improves blood circulation in the follicles, leading to stronger and longer growth
Cleanses and conditions the hair without chemicals
Delivers dandruff control through its antibacterial and anti-fungal properties
So now you understand how amazing coconut oil is on hair, let's give you five amazing and easy recipes so that you can learn how to do a coconut oil hair mask for yourself.
Coconut oil hair mask with honey twist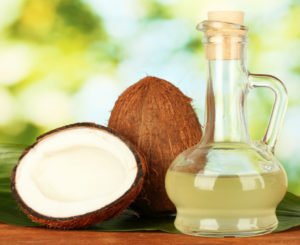 Honey is an amazing natural product. Not only does it taste amazing, but it helps to retain moisture in the hair. This helps to prevent hair falling out so easily, minimizing split ends. It is also a natural emollient, which helps to smooth the hair, adding sheen and shine.
You will need:
Directions:
Mix the coconut oil and honey together in a large bowl. A top trick is to use a ceramic bowl that you have heated in the microwave, which will help the coconut oil to melt luxuriously.
Then simply cover your hands in it and push your fingers through your hair from top to bottom, front to back until your hair and scalp are thoroughly coated.
Then simply cover it with a shower cap and let it soak in gently for about 20 minutes. After this time gently rinse out with warm water.
Luxury avocado and egg hair mask
Avocados are deliciously creamy and contain lots of amazing properties.
Eggs are rich in several vitamins, mostly A, D and E. They also contain proteins and fatty acids. This all helps to retain shine and condition.
You will need:
One avocado
2 eggs
1 tablespoon of honey
1 tablespoon of coconut oil
Directions:
Mix all the ingredients into a bowl, a warm bowl as we previously mentioned is best.
Apply to your hair from front to back and from the hair ends to the root. Gently use the tips of your fingers to massage the avocado hair mask into your scalp.
Leave it to soak in for about 20 minutes, but don't cover it with a shower hat because of the eggs. Then simply rinse through with warm water to remove it.
Amazing DIY egg and coconut hair mask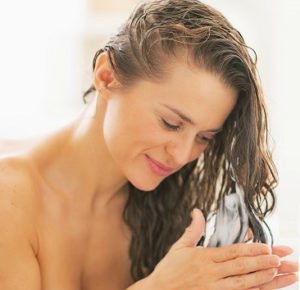 This hair mask not only contains eggs which we have already talked about the benefits of your hair, but also extra virgin olive oil and lemon juice.
Extra virgin olive oil has been used since ancient times as a natural skin and hair conditioner. It locks in moisture and helps to prevent dryness of the scalp and skin.
The juice of a lemon has also been used on the hair since ancient times. It helps to deal with an oily scalp, absorbing excess skin grease. It's also rich in vitamin C.
You will need:
Directions:
Crack the egg into a bowl and beat until frothy. Next mix in the coconut milk and extra virgin olive oil and mix thoroughly.
Add a squeeze of lemon and gently blend the mixture together to form a frothy paste.
Gently smooth and massage the mixture into the hair and scalp and let it rest for about 15 minutes. Then gently remove with warm water, using a shower head if possible.
Decadent strawberry and coconut oil hair mask
Strawberries are an amazing fruit that contains lots of fantastic vitamins as well as natural sugars and acids. They create a great base for an luxurious hair mask as they also smell amazing.
You will need:
6 fresh strawberries
1 tablespoon of coconut oil
1 tablespoon of honey
Directions:
Remove the green stalk from the strawberries and mush to a pulp with a potato masher.
Add in the tablespoon of coconut oil and the tablespoon of honey and gently blend together.
Then simply apply evenly to the hair and scalp. This recipe works better on slightly damp hair.
Let this gorgeous DIY coconut hair mask sit for around 10 minutes and then just rinse thoroughly with warm water.
Coconut oil and brown sugar hair mask
Brown Sugar is an amazing natural exfoliant. It helps to gently remove dead skin cells from the scalp, revealing fresh skin cells and helping the hair follicles to stay strong.
You will need:
2 tablespoons brown sugar
1 tablespoon of coconut oil
1 tablespoon of extra virgin olive oil
Directions:
Gently mix the ingredients together in a bowl. Don't use a warm bowl because this can melt the brown sugar.
As with the other recipes, simply apply to the hair and scalp, gently pushing the mixture through your hair and massaging your scalp.
Leave the hair mask to soak for around 20 minutes then rinse with warm water.
Coconut Oil Can Really Rock Your Hair
So now you know how to do a coconut oil hair mask at home, and for a very small price.
There is now absolutely no need for you to go out and spend lots of money on expensive hair masks or hairpieces when you have these amazing, simple and beneficial recipes in your hands.
Why not discover the benefits of coconut oil for your hair today by trying one of these recipes?