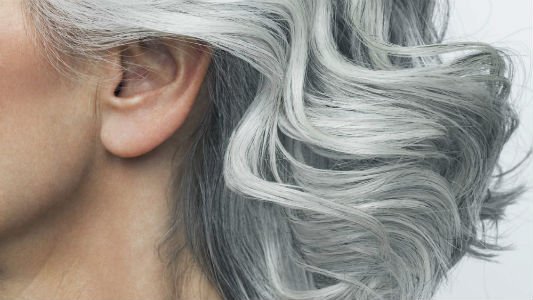 Your silver hair is special, and it requires special shampoo. So, whether you have gray or silver, naturally-occurring or dyed hair, you must invest in the best special shampoo.
Water, heat styling, chlorine, and several other environmental factors dull and even cause a tinge in silver hair. With the right shampoo, your silver hair remains protected, clean, and ultra-shiny.
From the experts and hair gurus, the best shampoo for gray hair should soften your hair strands and even eliminate the brassy undertones leaving you with beautiful silver tresses.
Before I look at some of the best shampoos for your silver strands, why do you have graying hair?
The Causes of Grey Hair
Pigment loss: Gray hair results from the loss of pigment in the hair follicles. With the loss of the pigment, your hair weakens.
With the increased loss of pigmentation, the shampoo you choose shouldn't just help with keeping the hair clean and vibrant, but it also protects the hair from the yellowing effects caused by exposure to the sun.
Aging: According to dermatologists, it's normal to have graying hair from the age of 50. Besides aging, genetics also play a part in the graying of hair.
Stress: While stress doesn't cause direct graying of hair, it contributes to graying by creating a host issues. For example, smoking will stress your hair and skin.
Lifestyle/ Diet: Having low levels of vitamin B12 contributes to the loss of pigmentation in hair. Besides vitamin B12, other deficiencies that cause graying include biotin, vitamin E, vitamin B6, and vitamin D.
Oxidative Stress: Oxidative stress results from free radicals, which causes imbalances in the cells. Since the free radicals are unstable molecules with damaging effects on the cells, they eventually cause the loss of pigment in the hair.
The relationship between hair color and hair
Hair grows from the hair stem. The pigment-forming hair stem cells make the hair pigment. While the pigment and the hair work together, they can wear out or even wear out prematurely. What this means is that your hair dye only coats the hair, but it doesn't change the structure of the hair strands.
Management of Gray Hair
Get the right shampoo
Eat more foods rich in antioxidants
Address your vitamin deficiencies
Quit smoking
10 Best Shampoos for Gray Hair Review

Now that you know what causes graying of hair, here are some of the shampoos you might want on your list.
1. Klorane Anti-Yellowing Shampoo with Centaury for Blonde
The best shampoo for your grey hair bears the best of anti-yellowing properties. It's also protective, and it enhances the health of your hair. The Klorane Centaury shampoo is one of the best shampoos, and it offers all these benefits.
This Klorane shampoo not only cleanses the hair but also adds up those silver highlights to the hair thanks to the centaury extracts. The shampoo further reduces and prevents the yellowing effects of the hair.
How is all this possible? Klorane's secret ingredient is Centaury. The Centaury is this perennial-grown plan in France. The power of the Centaury is the reduction of the yellow tones in hair, consequently illuminating both gray and white hair. The anti-yellowing effects of the shampoo come from the active part of the Centaury, the cyancentaurein, the vegetal pigment that has blue hues.
The biggest selling point of this shampoo is the fact that it's the ideal shampoo for blonde hair.
PROS
Centaury boosts the appearance of the silver highlights
It's dermatologically-tested
It reduces the yellow tones in hair
Ideal for greying blonde hairs
It helps your hair retain its natural color
It protects the hair, and you don't have to use a conditioner after
It smells great
CONS
It's not ideal for use on bleached hair
it works best only on persons with already greying hair
2. Jhirmack Shampoo Silver Plus
You've probably heard one too many times that shampoos could damage your hair even faster than the sun. But what you might not know is that trouble starts when you use the wrong shampoo. And if you have gray hair, then it means that you need to be extra careful with what you put on your hair. This Jhirmack Shampoo Silver Plus is one of the best shampoos on the market as it not only promises healthy gray silver tresses, but it also boasts strong anti-aging effects.
This shampoo is ideal for bleaches, blonde, gray, and even highlighted hair. Its ingredients will neutralize aging effects and free radicals. The shampoo also neutralizes the yellow, brassy tones.
Its enrichment with healthy ingredients gives hair a soft touch.
PROS
It softens hair
No yellow streaks
It cleans and protects
It gives your hair a silvery shine
It smells heavenly
CONS
It might feel thinner and a little weaker than other products
3. Matrix Total Results So Silver Shampoo
A lot goes into taking good care of your silver locks, and this Matrix Total Results So Silver Shampoo is one of the best things you could have to ensure the ultimate care of those locks. This shampoo carries clarifying effects, and it gently cleanses and also neutralizes the unwanted brassy look. The shampoo will also eliminate the dull, yellow tones of your hair.
If you're blonde, the shampoo is great at highlighting your blonde hairs, while also adding a shimmering brightness is your hair is color-treated. You could also use this hair shampoo for your natural gray or white hair.
So, if you're looking for the best gray hair shampoo that will neutralize that brassy warmth and the yellow undertones, while adding brightness to the hair (colored or natural), you might want to try this Matrix Total Results So Silver Shampoo.
PROS
It will illuminate your highlights
It brightens dull hair
Its purple base will fight off the yellow on the hair
It takes off the brassy feel
It extends the life of colored hair
CONS
It doesn't work as a toner
It has a drying effect on hair
4. Schwarzkopf Color Freeze Silver Shampoo
As your hair grays naturally, your focus should be on how to protect your hair. With many potential products on the market that could work for your hair color, it might be confusing to pick one and not the other. Which is why I recommend this Schwarzkopf Color Freeze Silver Shampoo. As one of the best shampoos for gray hair, this shampoo will protect your gray hair from damage from environmental factors, as well as yellowing.
This shampoo's formulation with the new Cell Perfecter Technology as well as the reactive silane gives the shampoo extra cleansing and protective powers. The formulation will work to easily restore your hair's inner structure by forming a sealing matrix on the hair's surface.
Since hair is prone to becoming brittle and weak when unprotected, this shampoo comes in and counteracts these effects by strengthening your hair from the inside out. Trust this shampoo to keep the hair's pH at an optimal level of 4.5. At this pH, your colored hair is closer to zero color fade, than ever!
You might also like this shampoo because it will effectively cleanse your hair and scalp. Also, it will neutralize the unwanted yellow undertones, while preserving and reviving your hair's cool tones.
PROS
It eliminates that brassy feelings on hair
The purple base gets rid of the unwanted yellow undertones
It protects and strengthens the hair
It doesn't dry out the hair
It's also ideal for platinum blondes
CONS
It turns hair purple if you leave it on for too long
It's not sulfate-free
5. L'Oreal Serie Expert Silver Shampoo
If you're ever in need of the best shampoo for silver hair, one that eliminates brassiness, strengthens and enhances the health of your hair, you might want to try this L'Oreal Serie Expert Silver Shampoo.
As a unisex shampoo, it means saving more on shampoo in your home. The other impressive feature of this shampoo is the fact that this is a professional-grade shampoo and it doesn't the job it's intended to do, as well as it should.
One of the reasons why this is one of our best shampoo for gray hair is that the shampoo is enriched with amino acids which strengthen hair and also prevent hair buildup; leaving you with lustrous hair.
It's gentle on your hair, and you can use during every shower. You don't have to buy an alternate shampoo. And the best part is that you could leave some shampoo in your hair without worrying about staining of hair.
You might also like the deep cleansing effects of this shampoo and the fact that it will eliminate all your hair's brassiness.
However, before using this shampoo, beware that it might leave your hair feeling somewhat stripped after rinsing. So, even though it works well, this is one caveat you have to be ready to deal with.
To protect your hair, condition your hair with good-quality coconut oil, argan oil or any other natural conditioner.
PROS
It's enriched with amino acids which will enhance the hair's clarity, shine, and bounce
It protects and retains your hair's natural sheen and purity
It works great on gray hair
Great price and value
Amino acids strengthen the hair
The ideal shampoo for silver hair
CONS
The shampoo's scent is unusual
It dries out the hair
It has sulfates
6. Miracle Aloe Softly Silver Gray Hair Shampoo/Conditioner
Good hair shampoo is not only effective in cleansing, but also in protecting your hair and encouraging healthy growth. And this Softly Silver Shampoo/Conditioner is all that. This shampoo is enriched with nourishing panthenol, as well as 20% pure organic ultra-aloe gel. These two ingredients will make your hair thicker, healthier, and shinier. The aloe gel is extracted from aloe leaves harvested when mature and at the peak of maturity.
The aloe gel will also moisturize your scalp, prevent drying, dandruff, as well as the flakiness of the scalp. It also softens hair.
This shampoo and conditioner's formulation will leave your dull hair shinier than ever while eliminating brassiness.
And unlike other shampoos around, you might also like this 2-in-1 formulation since it adds luster, restore the softness of your hair, and it also adds body and bounce to your hair.
Note that this is a shampoo and conditioner and not a hair bleach.
PROS
Aloe gel gives your hair a soft feel
It's protective, restorative, and it strengthens the hair
No more dull hair
Panthenol and organic ultra-aloe make the hair thicker and even shinier.
It adds luster and bounce to hair
It doesn't dye the hair purple
It smells fresh
No yellow undertones/ streaks
CONS
It has sulfates
It doesn't work for all hair types
7. American Crew Gray Shampoo for Men
Shampoo isles are full of products for women, and men hardly get products curated specifically for them. American Crew's design house saw this need and launched the Classic Gray Shampoo, for men. This is one of the best shampoos for men with gray hair, natural or colored. It also works well for normal hair.
To protect your hair and give you that shiny look, this gray hair shampoo for men is made of different essential ingredients which protect the hair also give off that beautiful, natural sheen.
This shampoo also absorbs and retains hair moisture. Besides giving your hair the perfect gray shade, the shampoo further eliminates the yellow tones common in gray hair that's shampooed with the wrong products, the buildup of impurities or from minerals in the water.
Its formulation with natural resin is responsible for the added, beautiful sheen, as well as the conditioning of the hair. Besides the natural resin, this shampoo is also formulated with other ingredients such a Balsam Canada which coats the hair, while adding an extra level of conditioning, preventing your hair from drying out.
PROS
It softens and smoothens the hair while helping in the absorption and the retention of moisture.
It preserves hair color and gives your gray hair more contrast.
It gets rid of the yellow tones in hair
The natural resin in the shampoo enhances the hair's health
It leaves you with beautiful, shiny gray hair
It locks in moisture in the hair, and its intensive moisturizing will keep your hair soft/ supple and shiny all day long!
It smells fresh
CONS
It might not work well for your hair type
It leaves your hair with a dark-bluish tint if you use it regularly, meaning that you need to alternate this shampoo with another one.
It somehow dries out the hair, and in some cases, it gives your hair a wiry feeling.
8. Luseta Color Brightening Purple Shampoo and Conditioner
When it comes to hair care, there are two things you cannot skimp on, the shampoo and conditioner. These two are essential for the appearance and the overall health of your hair. And if you have graying hair, your choice of hair shampoo/ conditioner is crucial. You cannot overlook the benefits of either product, especially if you wish to protect your hair from the annoying yellow tones. Fortunately, you can avoid all the misfortunes that befall people with gray hair by using Luseta's Color Brightening Purple Shampoo and Conditioner.
Luseta's Color Brightening Shampoo is ideal for blondie and persons with dyed or natural gray hair. It will eliminate the brassy and yellow undertones thanks to the shampoo's yellow pigment which neutralizes the brassy red tones or the yellow tones. The result of using this hair shampoo is a head full of hair, in its true color.
You might also like the fact that the shampoo is gentle, and it will no damage your treated hair. It's free of parabens, sulfates, and phosphates.
The Color Brightening Conditioner is also gentle, free of parabens, sulfates, and phosphates, and it works for all hair types. This conditioner will also add moisture, as well as nourishment to your hair.
The main ingredients of the conditioner and the shampoo include:
Coconut oil: Packed with vitamins, fatty acids, as well as antioxidants which nourish, condition and moisturize hair.
Hydrolyzed Keratin: To strengthen hair
Biotin: Also called vitamin B7. This is a water-soluble vitamin which acts as a co-enzyme that contributes to the synthesis of healthy hair.
Quinoa seed extract: This extract contains the nine essential amino acids which act as natural strengtheners for your hair. The amino acids also protect the hair shaft and repair any hair damage.
PROS
The shampoo will gently clean and also treat your damaged hair
Shampoo and conditioner are effective in the repair of split ends
The conditioner/ shampoo combo also gives your hair a glossy look
It's ideal for use on gray and blonde hair
No more red brassy or yellow undertones
They have healthy, natural ingredients that protect and strengthen the hair
Parabens, phosphates, and sulfates-free
It's a good shampoo for grey hair and also blonde hair
CONS
The smell is more masculine than feminine
These products have a slight drying effect
9. Just for Men Control GX Grey Reducing Shampoo
Gentlemen, how about a shampoo specially designed to reduce the grays, leaving you with that subtle and more natural look? If your hair is graying and you're over the dying phase, you might want to use this gray reducing shampoo.
Just for Men Control GX Grey Reducing Shampoo is one of the best gray hair shampoos for men. It boasts a unique feature; the Control GX, a breakthrough technology that gives your hair a pristine, natural look. This shampoo promises a reduction in graying in between 2-4 weeks, and you only need to use a few times in a week to see results and maintain the look you desire.
But this shampoo doesn't just reduce the graying of hair; you might also like it because it gives off subtle and natural-looking results, while deeply cleansing and protecting your hair. It also revitalizes the hair.
PROS
It works on all hair colors
A safe hair dye for men looking to reduce the appearance of gray strands of hair
You can use it every day, although this is not advisable
It also works on facial hair
It's ideal for use by women too
CONS
Although this shampoo reduces graying, it causes significant hair loss and thinning
10. Clairol Shimmer Lights Original Shampoo
If you have gray or blonde hair, this Clairol Shimmer Lights Original Shampoo might be the best shampoo you ever use. It will brighten your grays and make the blonde hair stand out by giving your hair the ultimate fresh, bright, and shiny look.
This shampoo is aluminum-free, and it bears strong color-enhancing properties. Use of this shampoo promises an end to brassiness, yellowness, and the dullness common with gray hair (if it's not cared for).
This shampoo also contains proteins in addition to a violet colorant which is effective in fighting the brassiness or the yellow undertones in gray/ blonde hair.
PROS
It has a fresh, soapy, floral scent
It neutralizes yellow undertones from silver and gray hair
It prevents brassiness in blonde hair
It's ideal for use on all hair types
It nourishes the hair by retaining moisture
It's not too foamy.
CONS
You might not like its scent
It's a little drying.
Conclusion
Thanks to the best shampoos for gray hair, you will give your hard-to-tame, brassy, and dry hair extra care and protection. These shampoos promise to give your hair its lost luster. They will also slow down graying, eliminate the yellow undertones, boost hair health, and make styling simple. Hair and scalp weakness shouldn't be issues, as long as you use the right shampoo.
The 10 products reviewed above are some of the best shampoos for grey hair. When buying a shampoo for silver hair, revisit the considerations above.
Choosing the Right Shampoo for your Gray Hair
When it comes to embracing and taking care of gray hair, you need a great deal of attention through hydration from the right shampoo. These shampoos contain violet-depositing components which will keep your gray strands healthy and shiny, not yellow.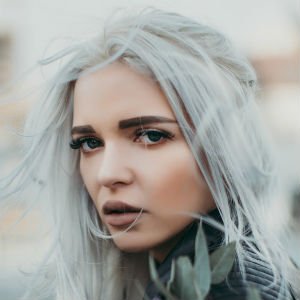 Some of the things that should guide your purchase include:
Shampoos have different effects on different hair types. If you have dry, frizzy, thin, or healthy hair, ensure that you buy the right shampoo for your hair type.
Besides graying, you also need to consider other hair issues such as a history of coloring, chemical treatment, or if you have patchy hair. The shampoo you choose should work well for your hair and prevent (further) damage.
Dehydration is one of the causes of graying hair. Even when using hydrating oils, you need to ensure that the shampoo you use doesn't strip your hair of moisture.
Your hair is only as healthy as the ingredients you use. Avoid shampoos and conditioners with harsh ingredients. Opt for natural ingredients which will protect and enhance the health of your hair.
Coneflower is one of the ingredients you should look out for in your shampoo (purple shampoo) because it hydrates the skin and prevents dandruff issues.
The shampoo must be free of sulfates, phosphates, and parabens.
By now, you know and have heard that you must use purple shampoo for your gray/ silver hair. The best of the purple shampoos use BlueMalva or other components. The purple ingredients in these shampoos add moisture to hair and increase brightness. Using such shampoos will leave you with shiny, healthy hair.
Your gray hair also needs the purple shampoo because gray hair tends to be brassier than other hair types – the purple shampoo neutralizes the brassiness of the hair, evening out the strands and making hair frizz-free.
All you need to do is to ensure that you buy a high-quality purple shampoo that suits your hair type, needs, and color. For the most part, the purple shampoo is ideal for gray, silver, and platinum hair.
Dealing with yellow tones
The best shampoos for gray hair will neutralize the yellow tones familiar with gray hair. The yellow tones which result from heat styling, hard water, chlorine, or too much sun exposure often give hair an ugly look. The only way for you to avoid the embarrassing yellow tone is by choosing the right shampoo, one that will neutralize the yellow tones, while moisturizing the hair. Fortunately, the blue extracts in the purple shampoo will get rid of the yellowness and restore the natural gray color.
By hair toning, I mean that the shampoo used must give your hair all the nourishment it needs. The best of toning shampoos work on both gray and colored hair, and they also reduce graying while enhancing color.
Since gray hair is prone to dryness and frizz, you must keep it moisturized. So, the shampoo you choose for your gray hair must be a moisturizing shampoo with natural moisturizing ingredients.
In a nutshell, choosing the best gray hair shampoo comes down to selecting the shampoo with the healthiest ingredients.