Lace frontal closure (sometimes called lace frontal) is a type of hairpiece that can be used to recreate the entire hairline from one ear to the other. Typically, they are about 13 or 14 inches long and 4 to 6 inches wide. It's a common misconception that closures and frontals are the same thing, but that isn't the case. The reason for the confusion is that frontals are often considered a type of closure, because they act as a closure for the hairline (hence the name "frontal closure"). However, it's inaccurate to say that all closures are frontals, because they aren't. That may sound confusing if you're new to the world of closures and frontals, but once you delve deeper into the topic, the difference between lace closures and lace frontal closures becomes obvious pretty quick.
Lace frontal closure benefits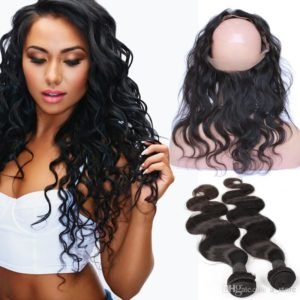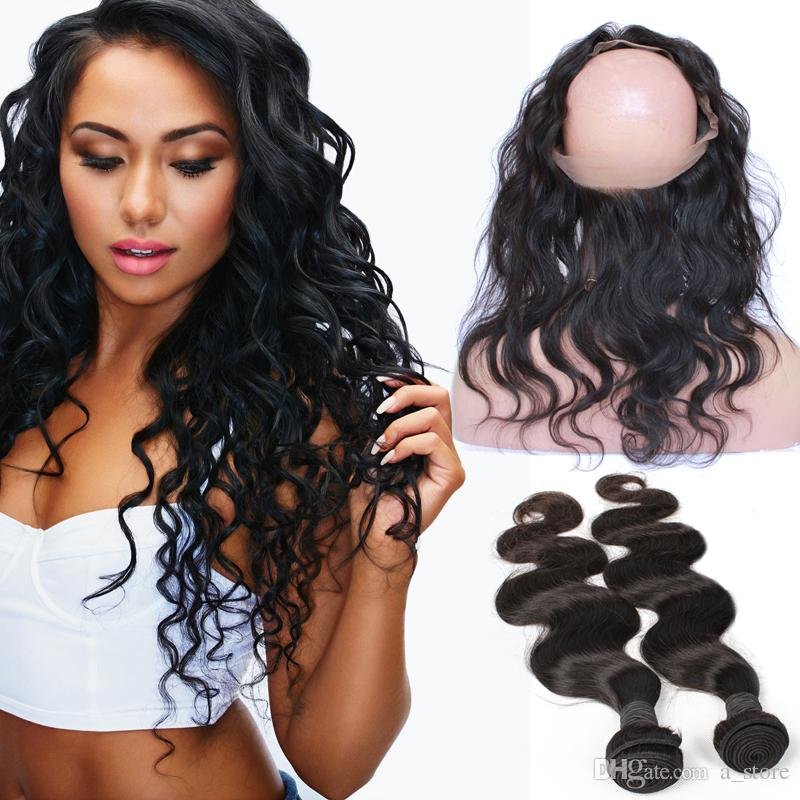 The main benefit is that it can be used to create or recreate your hairline.
For instance, if you're trying out a new hair texture, you will need a frontal to match the new texture of your weave so that it looks like real hair. This would be an instance of recreating your hairline, because you already have a hairline – you're just essentially applying a hair piece to match the new texture of your weave.
When we talk about creating a hairline, usually that means providing a cosmetic fix for thinning hair or hair loss caused by traction alopecia. Traction alopecia is a type of permanent hair loss, so that part of your hair line will never grow back. Therefore, the need to create a hairline from a lace frontal closure comes into play, and the improved aesthetic look can really add to a woman's quality of life and satisfaction with her appearance after suffering hair loss.
Another benefit of buying a frontal lace closure is that, when applied correctly, you can actually use it to protect your hair.
The benefit of the lace part of the frontal is very important to consider. Lace lies flatter to the head than silk or monofilaments. If you're able to bleach the knots and tint the lace to the right color, you can create a very natural look that is so flawless most people will never be able to tell you're wearing a frontal.
Finally, lace can be parted freely in many cases, enabling you to wear a wider variety of hairstyles. This level of freedom and versatility is one of the main reasons women often opt for lace frontal closures over other types.
Top Lace Frontals Reviewed
1. Brazilian Virgin Hair 13×4″ Full Lace Frontal Closure Ear-to-Ear Free Part Unprocessed Straight Human Hair Extensions by Persephone
Features
100% virgin Brazilian human hair
Everyone who is aware of hair extensions knows that human hair is far superior to synthetic hair. And virgin and raw human hair is the best for lace frontals, because it's never been processed or bleached, so you can customize it as for your needs without worrying about damaging it.
All ethnicities are known for different hair types and textures. Brazil is very unique in that the people who live there are perhaps the most ethnically diverse in the world, and many individuals carry DNA from every continent (except for Antarctica, obviously). Native Brazilians, like all Native Americans, come from Asia, so they have the East or Northeast Asian hair type, straight, black, thick. Brazil was colonized early by the Portuguese, so you can throw Mediterranean and Middle Eastern DNA in there as well, which might produce wavy or curly hair, ranging from black to blond to red and anything in between.
Most notably, there are black Brazilians, descending from Africans brought to Brazil as slaves and black Brazilians make up a huge portion of Brazil's overall population, and most Brazilians whose ancestors have been there for decades or more have some African DNA.
Unlike other countries, Brazil is, by and large, less segregated socially and ethnically than other countries, so all of these different genetic lineages might make their way to form Brazilian hair. Because of this, it's always important to check the texture of Brazilian hair.
This particular Brazilian frontal is straight and soft and has a density of 130%.
Swiss lace
All lace lays more flatly against the scalp than other bases for frontals and closures, however Swiss lace is typically the best of the best. It's breathable so you don't get too hot. The knots are less visible without being touched than other lace types; also, it's easy to bleach and tint the knots (depending on your preference), and create knots that are practically invisible.
Free part
This lace closure features a free part. This is the most versatile part type, because you can part it the way you want to, middle or side. Also, you can create more elaborate hairstyles without compromising the look or the integrity of the frontal.
Baby hair
The included baby hair creates a more natural hairline, which is perfect for those with thinning hair or those who just want a more natural, realistic look.
Bleached knots
The knots with this frontal come pre-bleached so you can begin the next phase of your customization right away or install and style. For those new to frontals, bleaching the knots is crucial to make it look like the hair is growing from your scalp instead of the lace. Most importantly, it makes the lace less visible.
PROS
100% unprocessed, virgin hair
Brazilian hair with straight texture
Soft and manageable
130% density for a thick, lush look
Free part
Little to no shedding
Tangle-free
Easy to style
CONS
The only downside with this one is that some customers have received their frontal and found the knots weren't bleached. However, most come with the knots bleached, so it could be these unbleached recipients received the wrong order. If this happens, contact the company—they offer a moneyback guarantee. Alternatively, many simply bleach the knots themselves because they like the rest of the frontal so much.
2. UNice Hair 7A Grade Brazilian Body Wave Virgin Hair 360 Lace Frontal Closure
Features
100% virgin human hair
UNice's 360 Lace Frontal Closure features 100% virgin, raw human hair that has never been processed. This means that the original integrity of the hair is fully intact so you can perm it, bleach it or process it however you want without changing its quality.
Brazilian hair
Because Brazilians are an ethnically diverse people whose population includes Native Brazilians (descended from East and Northeast Asians), Portuguese (descended mainly from Western and Mediterranean Europeans with some Middle Eastern lineage as well), and Africans from West Africa, Brazilian hair can be just as diverse as its population. On the flipside, of diversity, there is a lot of ethnic mixture in Brazilians, which is part of what makes their hair texture so universally beautiful—it's like the United Nations of hair. Therefore, always read the texture type on Brazilian hair to know what you're getting. This Brazilian frontal features a body wave texture.
Swiss lace
The swiss lace on this frontal closure is medium brown. You can bleach the knots to make them less visible, while some prefer to tint the knots so that they're more similar to the natural color of their scalp, which also reduces visibility.
12" 360 lace frontal closure
The majority of lace closures are a straight piece that is secured from ear-to-ear; however, this lace frontal is 360 degrees, encircling the head.
PROS
Unique 360-degree design
100% virgin hair
Brazilian hair
Body wave texture
120% density
Swiss lace
Free of knits and lice
You can style, color or process this hair to your liking
CONS
Some people aren't used to the 360-degree frontal type, and are immediately put off of it as soon as they try it on, because they're not used to it. However, once you learn to correctly install it, the look can be amazing. With 360-degree frontals, it's all about the installation.
3. Cici Collection 360 Lace Frontal Closure Brazilian
Features
360-degree lace frontal closure
One of the biggest benefits of having a 360-degree frontal closure is it wraps all the way around the hairline (hence 360), so you can wear your hair up without anyone knowing you're wearing a lace frontal. The base depth in the front is 4" and 2" in the back. Total circumference is 22.5", which gives you the length you need to tailor it to your head and scalp.
Natural hairline
A natural hairline is achieved with the combination of the 360-degree-style lace frontal with the pre-plucked hairline with flawless baby hair straight out the box. This is perfect for those uncomfortable with plucking or who are new to frontals in general. 360-degree frontals are already less detectable when installed correctly, so when you add in the pre-plucked hairline with baby hair, you get a natural look with minimal effort on your part.
100% virgin Brazilian hair
100% virgin hair means it has never been chemically processed, so it's safe to perm, bleach, color and style however you see fit. As always, it's important to take a close look at the specs on Brazilian hair, because texture and feel can vary greatly depending on the genetic makeup of the woman who donated the hair, though manufacturers work carefully to categorize the hair so that, regardless, it always means the advertised specs. With this particular hair, there is a natural body wave texture with a soft, healthy feel to the hand.
Hair quality
Aside of being 100% virgin, this is also Remy hair; that means it's very high quality with intact cuticles that lay in the direction of hair growth, and can last at least a year if not more when properly maintained. The hair is thick with an overall 130% hair density. However, because the hair is pre-plucked, density is varied in certain parts of the hair towards the front of the hairline, like around the baby hair area, where density drops to 80%-100%. While this may sound scary, again, it's important to remember the varied density is because it's already plucked and this lower level of density as at the front where the frontal was plucked. The main part of the frontal remains at 130% hair density.
PROS
100% virgin Brazilian Remy hair
130% hair density
Pre-plucked natural hairline
Baby hair
360-degree frontal closure means you can wear hair up with no detectability
Body wave
Soft feel
CONS
The knots aren't bleached, but many people prefer this as they can A.) have greater control and B.) most pre-bleached knots aren't always to the customer's high standards anyway.
The only downside of pre-plucked hair is you have to consider your face shape; however, the plucking done on this frontal will suit most face types.
4. Free Part Lace Frontal Closure 13×4 with Baby Hair

Features
7A grade hair
7A grade hair is considered very high in quality. It's Remy hair with intact cuticles and lays beautifully. Because it's so strong and healthy, it's safe to bleach it as light as platinum blonde without damaging its quality. It will last almost two years if you properly maintain it and treat it with respect, which makes this an awesome grade of hair for those who demand quality but don't want to break the bank.
100% virgin Brazilian hair
The Brazilian hair with this frontal is 100% virgin and unprocessed. It's black in color and its attributes are a body wave texture with a healthy feel to the touch.
Swiss lace
The Swiss lace with this frontal is medium brown in color. The knots aren't bleached, so for customization you can either bleach them or conversely tint the knots so that they blend in flawlessly with your scalp. Both techniques produce valid, beautiful results; however, both techniques also have best practice to achieve optimal results. If you're new to lace frontals and hair pieces in general, do your research to find out whether bleaching knots or tinting them will work best for you. Once you've determined that, there plenty of online tutorials that will give you amazing results no matter which method you choose to customize your Swiss lace.
Natural hairline
This lace frontal closure features baby hair for a natural hairline. Depending on your face shape and aesthetic ideals, the baby hair may already be perfect, or you may need to pluck further. It all depends on your face shape and what your desired outcome is.
PROS
100% virgin Brazilian hair
7A grade, which means very high quality Remy hair
Naturally black or off-black color
Body wave texture
Baby hair with natural hairline
Medium brown Swiss lace
CONS
The knots are NOT bleached, which means more customization work on your part. The upside of this is that you get more control and can make sure the knots are bleached correctly and to your liking.
5. Queen Plus Hair 7A Brazilian Virgin Hair Full Head Lace Frontal Closure (13×4) with 3 Bundles
Features
100% virgin Brazilian hair
Brazilian hair is a great choice for most women of color, because Brazilians are very genetically diverse people. Chances are, you and your Brazilian donor share a common heritage, at least on one side of the family. The result is a more natural-looking frontal for you. That said, once again, because of the genetic diversity among Brazilians, white women wouldn't be amiss with Brazilian hair, as most Brazilians have some Portuguese or German ancestry, so the hair texture and feel wouldn't be entirely out of line for white women either. This is a big reason why Brazilian hair is so popular because whatever your ethnic origins, Brazilian hair will likely accommodate you and provide a realistic-looking frontal.
Being virgin hair, it's completely free of any chemical processing. This hair features a body wave; if the donor didn't have a natural body wave, it may have been added using steam or heat. Or steam or heat has been used to give the natural body wave greater hold and more uniformity. However, real hair can take heat, so this is actually a good thing, because it means the integrity of the hair is intact.
7A grade hair
7A grade hair is very high quality Remy hair with an intact cuticle. It can be bleached and styled without damaging it and, if well-kept, it can be good for two years.
Swiss lace
The Swiss lace on this frontal is medium brown and the knots aren't bleached. Some find medium brown blends in enough so that they don't need to bleach or tint the knots, though many still prefer to bleach to be safe.
Free part
A free part allows you greater styling versatility.
Baby hair
Baby hair makes for a more natural hairline.
PROS
100% unprocessed Brazilian hair
7A grade Remy hair
Bundle of three pieces
Medium brown Swiss lace base
Baby hair
Free part
Free of lice
Scent-less
CONS
The main issue with this is that some experienced shedding; contact customer service if this happens to you.
6. V-Emma 8A Brazilian Full Lace Frontal Closure
Features
Ear-to-Ear
This ear-to-ear full lace frontal closure piece can be installed separately to complete your look or it can be used with other pieces to make your own wig.
8A Remy hair
8A is considered premium grade hair. While grade can vary across brands, since there is no governing body who dictates a standard, 8A will always be in the premium zone no matter what. Being Remy hair, the cuticles are intact and align uniformly in the direction of hair growth for a natural look.
Virgin Brazilian hair
Brazilian hair is some of the most beautiful hair in the world. Because Brazil is more ethnically mixed than in other countries with diverse populations, the resulting hair textures that are naturally found in Brazil are both gorgeous and mind-blowing in their variety.
The main populations of Brazil are Native Brazilians (who have the Asian type hair), people of Portuguese descent (who have Mediterranean hair commonly found on the Iberian Peninsula, a varied mixture of Western European and Middle Eastern hair types and colors), and Afro-Brazilians whose ancestors are from West Africa, and have the hair type of that region. Moreover, Brazilian hair might feature any mixture of texture and other qualities associated with any and all of the hair types above, so always read the details regarding texture and other hair characteristics of Brazilian hair to assure you're getting your desired look.
This particular Brazilian hair is unprocessed, virgin hair that has a natural body wave texture.
Swiss lace
The base material is mid-brown Swiss lace with the knots already bleached for your convenience. You can customize by tinting the knots to better match your scalp color, if you choose.
Free part
V-Emma's front closure features a free part, so you can part your hair any way you like. This is best for if you like to try out different hairstyles or even braids with your lace frontal.
PROS
100% unprocessed virgin hair
Brazilian hair with natural body waves
Black or off-black color
Baby hair
Tangle-free
No shedding
8A grade Remy hair with intact cuticles
Swiss lace with bleached knots
CONS
Some who have received it found the knots weren't bleached. However, it's important to note that some manufacturers don't bleach all of the knots on the base, just the ones visible when worn, because it can lessen the integrity of the frontal. Also, this gives you the ability to customize your bleaching and have full control over the outcome. (For instance, you can ensure the knots are bleached correctly with no bleeding of the bleach, etc.)
7. MORICHY Lace Frontal Closure with Bundles
Features
100% virgin Brazilian hair
The 100% virgin Brazilian hair in MORICHY's lace frontal closure is completely unprocessed with zero chemicals involved to promote healthy, beautiful hair. The texture is completely natural and features a very loose wave, which can be curled or straightened, depending on preference.
7A grade hair
7A grade hair is durable, very high quality Remy hair that's strong enough to bleach or perm, etc.
Ear-to-ear
An ear-to-ear frontal gives you greater freedom, especially for wig-making.
Baby hair
The pre-plucked baby hair provides a natural hairline.
PROS
100% virgin hair
Brazilian hair
7A grade Remy hair
Baby hair
Swiss lace
Bleached knots
Tangle-free
Safe to bleach, perm, etc.
CONS
The only con here is also a pro. It comes from the hair being 100% unprocessed. This means there can be some grey strands in it. The manufacturer tries to remove them all during production, but some remain. To fix at home, simply pluck them out.
Recommendation
The winner of the roundup for best lace frontal closure is Persephone's Brazilian Virgin Hair 13×4″ Full Lace Frontal Closure. The choice was easy to make thanks to the high quality and versatility, as well as this frontal's ability to aid wigmakers in achieving the perfect self-made wig.
What to look for when buying lace frontal closures
100% human hair
The first thing to do is to make sure it's real 100% human hair. Some dishonest manufacturers will try to blend in animal or synthetic hair. Not only does this denigrate the quality of your lace frontal, it can trigger allergies or other dangerous reaction. Ensuring you're getting quality human hair is the very first step to making a good lace frontal purchase.
Raw and virgin
Check to see if the hair is raw and virgin. This means that it's pure hair that has never been bleached, dyed or processed with chemicals of any kind. Raw, virgin hair is the best type, because it means you have the freedom to change it in any way you wish. You can cut, curl, bleach or dye it, which is something you can't always do to hair that has already been processed.
Country of origin
Hair used in lace frontal closures can come from all over the world, and country of origin can be an important consideration for some, for a variety of reasons. Mainly, you want to buy a frontal that is 100% of whatever country origin it comes from. (For instance, 100% Vietnamese.) The reason for this is that hair texture varies all over the world. Not all East Asian hair is the same, just like not all African or black hair is the same. Making sure the lace frontal you go with is singled down to one country in particular will make for a more even texture throughout the frontal, regardless of the texture type you ultimately choose.
Another reason country of origin is something to consider is related to the reason above: hair texture varies, as does thickness of the hair shafts and other characteristics which make human hair so unique and variable. For instance, hair from India is likely to be black or dark brown and have thick hair shafts and range from straight to loose curls in texture. Meanwhile, European hair is often sourced from Russia. The hair shafts are thinner, the hair is likely straighter, and it may come in a variety of colors like natural blond.
Other characteristics
It's important to research the characteristics of your frontal and match it to the rest of your hair so that the overall look is natural and flows well. Most often, manufacturers and sellers will let you know ahead of time what texture the hair is and any other important attributes or characteristics, so you can make the best decision for your needs.
The density of the hair is something to consider – especially if you're looking at European hair, which tends to be thinner in the follicle than hair from Africa and Asia, which means you need more of it to look fuller.
Check out the lace. What color is it? Are the knots bleached? If the lace is super light, you might have to tint it to something more similar to your skin color. If the knots aren't bleached, you will probably have to bleach them.
Some lace front closures will have baby hairs. This can create a more natural look – especially if you have to install it in such a way that hides your real baby hair.
Finally, look at the part. Some parts are wide and very defined. The upside of this is it can create a very clean and modern look, providing you've tented the lace and applied the frontal properly. Other parts are a lot closer together and a little messier. The upside of this is it can hide the lace better and, also, it's easier to wear in a variety of hair styles. Typically, a seller will let you know which ways the part can be styled. Generally, it will be a free part or a middle part, or both; even then, each of these options can usually be side parted, depending on the lace frontal's other attributes.
Tips on how to choose the best lace frontal closure
There are a few key things to keep in mind when trying to find the best lace frontal for your needs. Consider the following:
How long do you expect the lace frontal install to last? Longevity depends on how you applied it (adhesive, glue, etc.) and other factors. The less time an install last, the more often you will have to reapply and maintain it. Depending on what you choose, an install can last anywhere from 4 days to 2 weeks, so it's an important decision. Everyone is unique, so do your research to ultimately choose what works best for you.
Consider your hairline/edges: If you have thinning hair or traction alopecia, go for a lace frontal that can be installed in such a way to minimize damaging. Typically, gluing and sewing will cause the least damage, but this isn't necessarily true for everybody all the time, so, again, do your research.
Is the lace tinted? If it's tinted, be sure the color matches you. (Generally, you should go with a tint about two shades lighter than your face, but no more than that.) If it's not tinted, you'll have to tint it to get the best look. For an organic approach, some people use coffee for tinting lace. It's easy to control the intensity as well, so you might find it easier to match your color that way.
Swiss lace typically gives the most natural look, because it lays flat, though most quality lace is always going to look better and more comfortable than other bases.
Ensure that your lace frontal closure is the same texture as your lace and weave closure. Texture is more important than color, because you can always bleach or dye your hairpieces if need be.
Make sure the density of your frontal is enough to give the lace proper coverage as well as blend in with the rest of your hair.
Always opt for 100% raw, virgin, human hair. Settling for less will not only look bad, but could trigger irritation. If you take care of high quality human hair pieces, they can last years, so this is always a good investment if you plan on using frontals not only now but in the future as well.