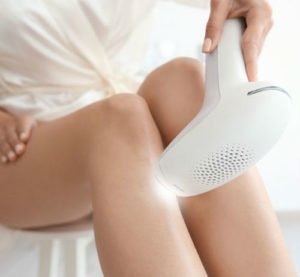 Shaving or waxing your legs is often a painful and laborious experience, but it seems that thanks to technology and the development of smart hair removal devices, we can all now forget about the pitfalls of shaving.
Did you know that every woman spends an average of 72 days of their life, just shaving? And that we spend about $10,000 on shaving related products?
While we've known about the effectiveness of laser hair removal treatments for decades, a big majority of women could not afford it, and this meant suffering through the pain and discomfort of shaving or waxing every few days. A professional laser hair removal could set you back more than $600, and unless you have the resources, this remains a largely unavailable option to most women.
The solution is laser hair removal at home. It has become a popular choice for many women.
The ingrown hairs, the annoying irritation, redness, and the fast regrowth can now be a thing of the past. And the best part is that you do not have to spend all your savings on an expensive laser hair removal treatment to stop the hair growth.
The laser hair removal gadgets zap hairs by using pulses of light. It's not as scary as it sounds, and it's quite effective and surprisingly straightforward.
Most of these products have the approval of top dermatologists, and have been cleared by the FDA meaning that they are safe to use.
The Best at Home Laser Hair Removal Devices Review

1. Tria Beauty Hair Removal Laser 4X for Women and Men
Most of the laser hair removal products on the market are actually IPLs, and few make use of laser. Tria Beauty Hair Removal Laser 4X stands out from the fold as it actually uses laser technology. This is the best and the top ranking hair removal gadget on the market.
Tria has been around the cosmetic world longer than most of its competitors, and it takes pride in being the first LHR System to receive approval from the FDA as an effective and safe hair removal machine for use at home.
It employs the same laser diode technology used by pros in clinics and salons but costing you an arm and a leg. Some of its features include:
Automatic lock for skin that's too dark
Most of the hair removal laser products fail to work on skin that's too dark. But, Tria laser 4X defies this off by making sure that it offers the best match for your skin tone, thanks to its built-in skin sensor. It is safe, and it will beep and unlock when needed.
User-friendly interface
First, you need to charge it before use. To unlock, you need to lay down the laser's bottom side on top of your skin. Just make sure you run in a cooling/ numbing gel on your skin before placing the laser head on the area you wish to treat. When ready, it will beep once. Don't lift it off the skin until you hear a second beep.
It also comes with five intensity settings with the highest setting feeling like a rather intense rubber band flick. If this is your first time using it, consider starting from the lowest setting, and work your way up until you find the setting that works best for you. Its digital interface makes it easy for you to select and adjust the settings appropriately. You might also like how this device counts the total number of laser pulses administered per session –read the manual for details of the appropriate pulses needed for different areas.
Note: given the laser head's small size, always place the laser head across your skin, in overlapping circles. While this is a time-consuming process, the end result is worth the effort, and you can look forward to minimal or no regrowth.
Ergonomic, cordless design
The other reason why this is a top-ranking device has to do with the fact that its operation is cordless, and it is designed ergonomically to allow effortless use. You can maneuver different areas of the body with ease. Also, it's small for use on target areas accurately. The only problem with the size is that you will spend more time on your legs.
No cartridge replacement
Unlike other models, this one provides a finite number of pulses, and you don't have to worry about replacing the cartridge after some time. While this means being careful not to use up the available pulses, it offers a great deal of convenience. It has a 90,000-pulse capacity which should last a few years. You have to buy a new one when you run out of pulses. Keep in mind that the other devices on the market have cartridges holding between 1000-5000 pulses and you will spend more money on them in the long run.
This device maxes out at 22J/cm2 while the competitor models max out at 8-9J/cm2.
Battery life
This laser machine features a rechargeable battery with a 40-minute run-time.
PROS
It does what it's supposed to do, exactly
Ergonomic design
After touch-ups on the treated follicles, hair growth ceases completely
It's the most powerful hair removal laser tool for use at home
FDA approved, safe, and effective
The high degree of precision lasering on bikini lines or the upper lips
It boasts the highest power/ energy fluence compared to all other at-home devices
Works well on dense or coarse hair, and in thick skin unreachable with IPL
Small, maneuverable, handheld design
Uses diode laser technology hence its effectiveness
It's highly portable, and you can use it in the bathroom safely
CONS
The cooling gel runs out fast since you have to recharge it after every 30 minutes
It's time-consuming when used on large areas like legs
It's painful to anyone with a low tolerance to pain, and you might want to buy and use a numbing gel
You have to recharge it after every use.
2. Remington iLIGHT Pro At-Home IPL Hair Removal System
Remington is another big brand, and this iLIGHT Pro At-Home IPL Hair Removal System is one of their best products in its diverse range of top-rated products.
This device recently received its seal of approval from the FDA, meaning that you don't have to worry about your safety while using it. It's also clinically proven to provide permanent hair reducing in only 3 treatments.
It uses the Pro Pulse Technology, which is a higher-quality and a more powerful form of IPL technology. This technology works to destroy the hair follicle permanently.
It's easy to use, and you can begin your process by placing is skin sensor on its base pad. Doing this is important because it lets you know if the laser is ready and safe to use or not. If ready, you can set your preferred setting.
Proprietary ProPulse technology
One of the reasons why this is a top-rated tool is because of its Proprietary ProPulse technology which is a lot like the technology used by the pros in the delivery of permanent hair removal, at only a fraction of the total cost of the professional treatment.
2X Power
The Remington iLight promises hair reduction capacity of about 66% in 12 months and after 3 treatments. It might not be as powerful as Tria, but it's more powerful than most of the other devices on the market.
This unit delivers permanent hair reduction (the long term, and the stable reduction of the number of regrowing hairs as measured after 6, 9, and 12 months).
Its other features include its skin tone tester, a safety feature that ensures your skin tone's compatibility with the device, which means that you no longer have to guess the compatibility of your skin. It also has a skin contact sensor which confirms that the treatment cap flush is against your skin before the delivery of a flash.
You might also like this one because it provides total body coverage – you can use it to remove hairs from any part of the body. It works well on legs, underarms, and men's chest too.
Unfortunately, it's not portable. While cording ensures uninterrupted operation and maximum power, it makes the device less portable, and you cannot use it in the bathroom safely.
Note that it makes use of a quartz lamp rather than the ineffective normal glass. Also, it comes with two treatment caps, one for the face and the other for the body.
Its essential parts, face caps, body caps, and the cartridge are replaceable, which makes it a sustainable investment.
PROS
US FDA-approved and it's also clinically proven to offer permanent hair reduction in 3 treatments only
It's ideal for hygiene lasering, and it comes with different caps for the body and the face
It boasts a low of power/ fluence of 8J/cm2 against the normal devices with 3-6J/cm2
It saves money in the long-term with its replaceable parts
Its skin sensor minimizes injury
5-intensity adjustment settings
CONS
It doesn't deliver precision lasering on small areas because the body cap's size is standard and not ideal for small areas
Flashing speed could be better.
3. BoSidin Facial & Body Permanent Hair Removal for Women
With a promise of 96% total hair reduction after only 3 treatments and 92%of tested women claiming the freedom of permanently smooth and hair-free skin after only 8 weeks, the BoSidin hair removal machine is one of the best for home usage.
It employs the IPL technology common with pros and clinicians, and it's proven to be as a safe treatment. You can use it confidently on your upper lip chin, and all the other essential body parts.
This IPL device also features a cooling system to cool and protect the skin, while also enhancing comfort during use on different parts of the body.
PROS
It works using the IPL technology
It's effective if you're patient
It comes with a cooling system that enhances comfort during use
It's not painful
Significant hair reduction in weeks
CONS
It's rather slow, and you might want to shave before flashing.
4. DEESS Permanent Hair Removal Device

Aren't you tired of the endless shaving, razor burn, plucking, and the constant need for bleaching?
Well, you can finally end your woes around body hair thanks to this DEESS IPL Permanent Hair Removal Device series 3 plus which promises a pain-free journey to silky smooth, hairless skin.
It boasts a fast-flash system with a large lamp window, and also a very long run. You only need 8 minutes for treatment since the device is powerful with 350,000 flashes, and you only need between 15,000 and 30,000 flashes for your face and the body. The flashes will last 10 treatments.
You should expect a significant reduction in body hairs after 12 weeks of use. Remember that IPL works by delivering energy in short, intense pulses of light which is then absorbed, albeit preferentially, by melanin at the root of your hair follicle. Hair growth is curtailed after several IPL treatments.
You might also like it because it's ideal for use throughout the body.
PROS
90% hair reduction in about 3 months
It's FDA cleared and it offers effective results, working as effectively as tools used in clinics, salons, and spas
It's multi-functional with a fast-flash function
It works on dark hairs too
Easy to use and adjust the settings
350,000 flashes per lamp, and it has a life span of 3 years.
CONS
The treatment might take longer than other devices
It's a little tedious
Being corded, it's not as portable as you'd like.
5. Next Beauty IPL Permanent Hair Removal
Your prayers for silky smooth and hairless skin have finally been answered via this IPL Permanent Hair Removal by Next Beauty.
It works in four stages: growth stage which is the best time for the laser treatment because a hair grows, the hair pigment in the follicles is absorbed completely; in the second stage or the degradation stage, the hair weakens and thins out with more than half the hairs no longer growing in four weeks, hence a smooth and hairless skin. Stage 3 is the consolidation stage, which takes place after week 8 of treatment, and here, you only need monthly treatments. After this stage, hair removal is completed in stage 4.
Thanks to the IPL treatment and Next Beauty's use of the clinically proven IPL technology, this device breaks the cycle for hair regeneration. The pulsed light is transformed into heat energy in the hair follicles by melanin, and the heat energy prevents further hair growth.
It also features a uniquely designed cooling care function which prevents discomfort, pain, redness, and burning during the treatment. This cooling system reaches freeing point, enhancing comfort. For cooling, you need to activate the cooling care mode.
Its ease of use further comes from its simple design, as well as its 8 adjustable energy levels which ensure that you reach the best, gentlest, and the most effective treatment. You might also like it for its two other function modes – manual and automatic, which enhance the device's ease of use.
The 3 headlamps make for its interactive use – there is a 4.5cm3 lamp for large areas and a 3.6cm2 for small areas.
It also features a RED lens attachment for skin rejuvenation – it makes the skin smoother.
PROS
Works on light and brown skin tones
Suitable for light brown, dark brown, black, and medium brown hair colors
It has a cooling system for comfortable treatments
It rejuvenates the skin
Easy to use and it features 8 settings, including manual and automatic options
It's not as painful
It works and saves you a lot of money
CONS
Unsuitable for use on dark brown or black skin
Unfit for blonde, white, red, or grey hair
Its effects will not be as fast as you anticipate.
6. Philips Lumea BRI956 Prestige IPL Hair Removal

This Philips Lumea BRI956 Prestige IPL is one of the most flexible laser hair removal systems for use at home as it boasts quite the customized experience.
It employs the clinically-tested and approved/ cleared IPL technology developed and used by dermatologists. It boasts a 92% reduction in hair growth, and this happens after just 3 treatments, and you can be 100% hair-free in 6 months.
This Lumea Prestige is the first of its kind with 4 unique, curved, and easily detachable attachments which have been designed for optimal use on different areas on the body. The curving of the attachments will ensure hair is removed in your body's curves and also in line with the level of hair growth. It comes with curved adjustments for the face – upper lip and chin and the body – arms, stomach and the legs. You might also like the fact that each of the intelligent accessories come in different shapes, with different flashing window size, triggers, and filters. These attachments follow your body's natural contours for maximum efficiency, safety, and precision.
It also features an integrated UV filter and a safety system which will protect you from UV rays, as well as unintentional flashing.
Its other impressive feature lies in its design – it transforms into a cordless and a corded device as needed. And it also works on a wide variety of skin tones and hair colors.
PROS
It makes use of the safe and clinically-proven IPL technology resulting in a 92% hair reduction
It features four interchangeable and customized attachments for use on the face and the body
It has a high-performance lamp that delivers 250,000 flashes
It's safe thanks to the integrated safety system and the UV filter
it's designed with corded and cordless options for added convenience
no more mistakes, thanks to the inbuilt contact and skin tone sensors
CONS
The cordless version is slower
It energy fluence is less than what's given off by other top brands like Tria
It's expensive
Changing attachments mid-treatment is inconveniencing.
7. Braun Gillette Venus Silk-Expert IPL 5001 Face & Body Hair Removal System

This is yet another top-rated brand looking to make your hair-free lifestyle and experience as effortless as possible. This tool makes use of the IPL technology employed by many other devices, and it works well for individuals within the normal spectrum for hair color and skin tone.
Though not as efficient – it only works after an initial treatment of between 4-12 weeks and 1-2 months of maintenance, it's still one of the better tools.
This device boasts a unique technology, the SensoAdapt Technology, which will automatically check and adjust the settings to match and accommodate your skin tone. Most of the other devices on the market require checking of the area to be treated before every treatment.
The other impressive feature of this device is its built-in cartridge which loads up a maximum of 300,000 flashes. This is a feature only seen in the best of the best devices. Its speed is also impressive, and with the large 3cm2 window, treatment will not take you the rest of the afternoon. Its noise level is also significantly low.
PROS
It comes with a teal razor
Comes customized for skin sensitivity
300,000 flashes mean that you can use it for up to 15 years
It's easy to use thanks to its intuitive functions
Gliding mode works well on large areas while the precision mode is ideal for small and sensitive areas
Its skin sensor will adjust to your skin tone automatically
Suitable for both body and face treatments
It comes with an app for scheduling of treatments
It boasts a wider skin tone range coverage on the Fitzpatrick Scale
CONS
It's less powerful
You have to replace the whole thing when the cartridge runs out
Its effectiveness is only seen after 12 treatments and not 6 as seen with other machines.
8. LumaRx Full Body IPL Hair Removal Device
Regarded as one of the most sustainable at home laser hair removal, this LumaRx Full Body IPL Device seems to have everything going for hair removal.
It uses the FDA-approved IPL technology commonly used by salons and other establishments. Its unique features, however, include the highly flexible and detachable caps and its replacement cartridge.
It features two caps, one for the face and the other for overall body use. The two caps have differences in their window sizes, the wavelengths, and speeds, ensuring you enjoy the best hair removing experience for the body and face. Thanks to the big size of the body cap's window and the stronger wavelength, this cap ensures penetration deep into the skin and hair follicles for maximum effects.
Its replaceable cartridge effectively enhances it's lifespan. It also has a long warranty period compared to other products on the market, and it offers a virtually painless experience.
Like Tria, its initial treatment involves treatment every 2 weeks, with top up treatments as needed.
PROS
It comes with interchangeable caps for the face and body treatments
It uses the clinically-proven IPL technology, and it delivers up to 94% hair reduction in only 3 treatments making it the fastest gadget
One of the most powerful with 8J/cm2 against 3-5J/cm2 by other devices
The replaceable cartridge makes for long-term savings
The skin tone and contact sensor reduces the risk of injuries
It has a 2-year warranty
You can track your treatments using it's app
CONS
Changing the caps is inconveniencing
Its highest setting is too painful for persons with low pain tolerance or sensitive skin
Speed varies with the caps.
9. Remington iLIGHT Pro Plus Quartz At-Home IPL Hair Removal System
This Remington iLIGHT Pro Plus Quartz At-Home IPL Hair Removal System promises great results with few treatments – a 94% reduction in hairs after 3 treatments.
It makes use of the IPL technology through which it delivers 16J/ flash, resulting in a significant reduction in hair growth. This technology, unlike shaving or waxing, makes use of light energy which is then converted into heat energy, resulting in reduced hair growth.
It comes with a built-in skin tone and skin contact sensor to enhance safety and compatibility during treatment. It's corded allowing you maximum power and continuous operation. You might also like it for its total body coverage capacity.
The use of Quartz rather than normal glass increases its efficiency
PROS
It's good for 30,000 flashes
Treatments are almost pain-free
It's effective in hair reduction
The corded design means that you don't have to worry about recharging it in long treatments
It's easy to use
CONS
It doesn't work for blonde hair
It's less effective and less powerful than other devices on the market.
10. Silk'n Flash&Go – At Home Permanent Hair Removal Device
If you're looking for an at home laser hair removal device that works well for men and women, you might consider the Silk'n Flash&Go Device.
It features a unique design that makes it easy for you to target specific areas. It's an innovative light-based device that works on the whole body.
Silk'n Flash&Go makes use of Home Pulsed Light, HPL for hair reduction. This technology emits light pulses, gently onto the target hair follicles, stopping hair growth from the roots.
Although it doesn't work well with dark complexions, it's easy to use, and you can experience hair reduction in weeks.
For the best results, you should use it every two weeks when you start your treatment and then use it monthly once you note results.
PROS
It's easy to use
HPL technology is safe
A means to the end of ingrown hairs and skin irritation
It works
It comes with replaceable cartridges
CONS
It's less effective compared to IPL and laser technology treatments
All your hairs grow back when you stop treatment.
Let's now look at the things you should consider when buying a laser hair removal at home device.
The laser hair removal products are not created equal
Types of home permanent laser & IPL hair removal
There are two main types, but the most common device is the IPL, also called the intense pulsed light. The intense pulsed light is not a laser but a spectrum of light of different wavelengths which work to slow down and reduce hair growth gradually. Unfortunately, the use of an IPL device means being ready for hair regrowth and another treatment in 6-12 months after the treatment and you will
The laser device, on the other hand, delivers single wavelengths of red light or a single wave directly on the skin, disabling the hair follicles and stopping hair growth for a long time.
It's important to note that most of the products on the market are IPLs and very few actually employ laser technology.
Choosing the right hair removal machine
Your hair color and your skin tone determine the type of device you buy and how effective it will be.
For this reason, dermatologists recommend looking at the hair and skin charts to make sure that you have the right device.
While most people with dark hair report the best results using these devices, it doesn't mean that you will not find the right laser machine to suit your hair color. All you need is a great deal of patience and attention to details.
Your skin tone is another important element to consider. To find the right product, knowledge of the Fitzpatrick Scale is invaluable. This scale places skin tones into 6 groups or categories, all based on your skin's pigmentation or the amount of melanin on your skin. Persons with pale skin score I on the scale and individuals with dark skin score VI. Knowledge of the scaling is important because persons with pale skin often absorb a lot less light than individuals with darker skin. When more light is available for absorption by the hairs, your chances of damaging the hairs and preventing regrowth is high.
It's also noted that individuals with darker skin need to exercise caution because they are at a higher risk of pigmentation and discoloration.
Why do you need an at home laser hair removal device?
The mundane task of shaving and epilating often leaves you with bruising razor burns, ingrown hairs bleeding, infection, and itching. The laser devices end these problems associated with hairless skin once and for all.
The at-home laser hair removal gadgets will effectively save you from the long-term effects of waxing and shaving. What do we mean? Well, in the long-term, the normal, mundane tasks create conditions that are hard to fix such as the loss of elasticity which comes from the constant pulling, wrinkles, and the darkening of the skin. You will also avoid a lifetime of thick, coarse hair, as your hairs grow back.
Also, the laser and IPL machines are superior to the other methods like shaving (obviously), wax epilation, removal creams and even electrolysis.
Finally, these devices bring with them a great deal of convenience. Imagine finally working on your underarms, arms, legs, bikini areas, or upper lips in your home, without having to fork out a fortune!
Verdict
Tria is easily the best at home laser hair removal device you can get your hands on. It's effective, and it gets the work done. IPL technology devices are also great.
Note, however, that it's important to check its ease of use, compatibility/sensitivity to skin tone and hair color, as well as its effectiveness in the long term. The 10 reviewed above are easily the best options, and you could choose one or the other depending on your needs, complexion, hair color, and your budget.