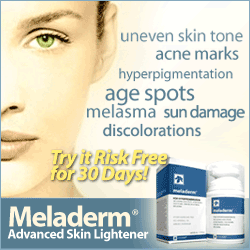 When developing Meladerm, Civant Skin Care took the best points of leading technologies and incorporated them with latest research. It took about four years to develop this product and the company has not stopped making improvements to the original formula. The best thing is that Meladerm does not contain any hydroquinone or mercury and it also does not contain steroids and parabens.
Meladerm by Civant Skincare is one of the most popular skin lightening creams out there.
This pigment correction cream works by targeting the areas of your skin where hyper pigmentation has occurred. It has proven to be effective in removing not only hyper pigmentation but also erasing acne marks, age spots and other scars.
Effectiveness
The product is effective because it combines the best properties of its safe and beneficial active ingredients – most of which are obtained from the following natural extracts: Mulberry, Licorice and Bearberry plants.
Civant has also gone to great lengths to ensure that its skin lightening product is safe to use. The portion of a person's skin that is darker than the rest contains active melanosomes. These melanosomes are more active than the ones found in other areas of the human body. Meladerm is effective because it not only deals with the melanosomes but it also deals adequately with enzyme tyrosinase.
Even though this cream is definitely working, you will only get desired results if you let a certain period of time elapse, and you should be prepared to be patient. When you combine Meladerm with exfoliation agents, it takes just two weeks for results to show up. However, it can take between two and three months before any results will show. How long the product takes to do its job depends on the physiology and condition of your skin.
Uniqueness
Though there is an abundance of skin bleaching products available on the market today, it makes even more sense to use this one because it was formulated in a very special way. The company's special team has gone to great lengths to both micronize as well as filter each active ingredient and extract to ensure maximum efficiency. The company also understands that both the base ingredients as well as the active ones are equally important. The active ingredient concentration in this product is the highest that can be tolerated by the human skin.
Main Uses
Meladerm can be used to not only lessen dark skin on the body and face, but it can also be used on certain areas where there is hyperpigmentation or dark discoloration. It can also be used in areas where:
the skin has aged
there are lots of freckles
the skin has been damaged by the sun
there are acne marks
there are old scars
the skin tone is uneven
and on birthmarks and dark elbows
Using Meladerm skin lightener helps you to regain your lost confidence. Some of its benefits include elimination of black spots on the face. To obtain results you only need to make sure that you are using the product according to usage directions and for a specific time.