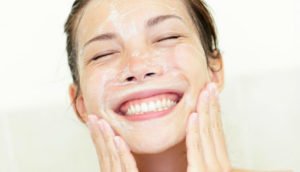 An acne breakout is every grown-ass adult's freaking worst nightmare. It's like a bad dream that recurs to remind you of your not-so-great, awkward teenage years. Having been where you are, I understand your frustration. I know that you've tried everything recommended by friends and strangers over coffee and you cannot stand the Instagram recommendations anymore. I get it when you say that you've accepted acne as part of who you are.
But, allow me to nudge you one last time. Deep inside, I know that you dream of waking up to flawless skin, regardless of what you eat or don't eat. For this reason, and also the fact that I wish to save you some money, here's something I think you should try –  a benzoyl peroxide face wash.
The best benzoyl peroxide face wash will help clear those zits, especially if you struggle with mild or moderate acne. The effectiveness of this drugstore product comes from the fact that benzoyl peroxide is a super active ingredient that clears acne by attacking P. acnes, the bacteria responsible for the painful and swollen under skin zits.
How do the benzoyl peroxide face washes work?
Overcoming zits starts from the careful elimination of dead skin cells, as well as unclogging the oil-filled skin pores which encourage the breeding and the proliferation of the acne-causing bacteria. Benzoyl peroxide makes this possible by speeding up the cleansing of the pores. It also detoxifies the pores while removing the buildup of sebum.
Unlike all the other products you might have tried, the best benzoyl peroxide face washes and cleansers will treat the inflammatory cysts, pimples, or even zits, as well as the non-inflammatory skin problems such as whiteheads and blackheads.
Benzoyl Peroxide's Mechanism of Action
Antibacterial effects – acne-causing bacteria is anaerobic bacteria, and it doesn't survive when exposed to oxygen. Benzoyl peroxide in the face wash will release oxygen into the skin cells, causing the death of the bacteria.
Exfoliation – mentioned above, acne results from clogged pores with dead skin cells and oils. This face wash will unclog the pores, allowing them to breathe. The exfoliation also encourages cellular regeneration which will reduce the appearance of scars.
Wound healing – every time you squeeze the zits, you wound your skin and the cells. By using benzoyl peroxide, you encourage wound healing. How? Benzoyl peroxide attracts white blood cells like histiocytes and macrophages into the wounded area. The white blood cells prevent infections and encourage cellular healing.
But before you try one, note that this cleanser has some drying effects and you shouldn't use it every day, especially if you have sensitive skin. After a cleanse, use a non-comedogenic, hypoallergenic moisturizer to prevent excessive dryness and redness, and also to restore the pH. of the skin. Make sure you use a hydrating moisturizer for healthy, clear skin without any side effects.
Also, benzoyl peroxide is a mild bleach, and you should only use white towels.
Convinced that the benzoyl peroxide wash is something that might work for you? Great! Below is a review of ten of the best benzoyl peroxide washes you might want to try.
Top 10 Benzoyl Peroxide Washes Reviewed
1. Humane Benzoyl Peroxide 10% Acne Treatment Body & Face Wash

One of the best benzoyl peroxide faces washes you might want to try for face and body breakouts is this Humane Benzoyl Peroxide. It's a powerful face wash with the maximum strength to kill acne-causing bacteria P. acnes. It's exfoliating and anti-inflammatory effects also make this body and face wash effectively in getting rid of whiteheads and pimples.
You might also like it because it eliminates blackheads and also unplugs/unclogs pores. And by reducing the production of sebum, you don't have to worry about breakouts in the future.
Despite the 10% strength of the benzoyl peroxide, this product prevents inflammation, and it also soothes redness.
Unlike skin care products you might have used in the past; this product is quite easy to use. It's a non-foaming lotion which is absorbed into the skin quickly. All you need to do is to apply the face wash to damp/ wet skin evenly, then massage it on the affected areas. Let the solution sit for at least one or two minutes or up to five minutes, depending on how your skin tolerates it, then rinse. When rinsing, use warm water and then pat-dry the skin using a white towel. Colored towels get discolored.
Moisturize the skin with a hydrating or soothing oil-free moisturizer. After moisturizing, you should follow up with a broad-spectrum sunscreen, an SPF 30 or higher, if stepping out for the day.
Will the acne disappear immediately? Well, not quite. And in some cases, things might get worse before your skin clears. So, be patient.
Can you use it on sensitive skin? Unfortunately, this formulated face wash is not ideal for the skin. You should only use this Humane Benzoyl Peroxide if you have normal, insensitive skin, and if you're struggling with moderate to severe acne. If you're unsure of your skin's tolerance, test a small amount of the bleach on a small part of the area affected. If you don't experience any discomfort three days after using the treatment, keep using it. The reason for this cautionary message is because this body and face wash might work well for others and not for you.
Also, beware that you might experience some minor side effects like irritation, redness, peeling or flakiness. These are normal side effects, but you should reduce the usage of the wash to once in a day or use every other day if the side effects worsen.
If you're looking for a skin product made of clean, cruelty-free ingredients, you might find this Humane face wash to be the right fit for you. Manufactured in the USA at a DA/cGMP compliant facility, it's free of SLS, parabens, as well as animal products.
PROS
It doesn't have any animal-based products
It cures acne, but you shouldn't expect the results overnight
It removes blemishes
Works for whiteheads and blackheads
It's FDA-Approved
Free of parabens and SLS
CONS
It will bleach non-white clothes/ towels
Unsuitable for sensitive skin
It doesn't work for everyone
2. PCA SKIN BPO 5% Cleanser, Clarifying Daily Facial Wash for Acne-Prone Skin
There are several facial cleansers with benzoyl peroxide as the main ingredient, but none beats this PCA cleanser when it comes down to facial wash that works for all types of acne-prone skin types.
The PCA brand is known for its effective skin products used for corrective uses on the skin, and this line of product doesn't disappoint, especially if it's compatible with your skin. It's not only effective against acne but also helps with exfoliation and the elimination of scars. It's a formulation made with alpha hydroxyl acids and with the benzoyl peroxide, it detoxifies, cleanses, and exfoliates the skin with ease.
With a 5% benzoyl peroxide formulation, this facial cleanser works well as a daily cleanser. The low concentration of the BPO leaves you with a gentle product that will not only eliminate acne but also prevent future breakouts.
This cleanser also has phytic acid as an active ingredient. Phytic acid is an exfoliant. So, as an exfoliant, this cleanser promises to enhance your skin's health and appearance as it promotes the renewal of cells while preventing the buildup of the dead skin cells.
While exfoliating and cleansing, this skin product remains gentle on the skin, thanks to another ingredient – gluconolactone. Gluconolactone has moisturizing and calming effects. It also encourages cellular regeneration, promoting an even complexion.
Also, the cleanser is made with botanical ingredients which will soothe the irritated or inflamed skin, allowing healing of the skin.
Also, this product is free of synthetic fragrances and dyes, which irritate often. PCA SKIN is a brand against all forms of animal testing.
Besides the elimination of acne, you could use this product for uneven and dull skin texture. Since the cleanser has AHA, it encourages the skin's renewal.
PROS
It's soothing
Eliminates acne and scars/ blemishes
It carries exfoliation and antibacterial benefits
Gluconolactone soothes and moisturizes the skin
No synthetic dyes or fragrances
Works for all skin types
It's gentle on the skin
Botanical extracts to soothe the skin
Prevents future breakouts
It works well
3. Beauty Facial Extreme Benzoyl Peroxide 5% Acne Cleanser
A clinically proven face wash, this cleaner by Beauty Facial Extreme is a non-irritating micronized benzoyl peroxide that works for the face and the rest of the body.
Its effectiveness comes from the fact that it's specially formulated for whole-body use. Also, you could use it daily. You might like this cleanser even more because of its effectiveness in fighting bacteria that cause acne resulting in the elimination of the current and future breakouts. The formulation prevents the breeding of acne-causing bacteria.
If you struggle with severe, chronic acne, this cleanser might work well for you thanks to its effectiveness in the removal of dirt, excess oils, and cellular debris. You might also need this cleanser if your skin is oily.
By unclogging and cleansing your skin's pores, this cleanser prevents future acne breakouts, it encourages cellular regeneration and eliminates blemishes.
This cleanser comes in a large bottle with a simple dispensing pump which enhances the use of the cleanser in the bathroom. It's creamy, and you will not struggle to use it because it lathers well.
It's free of parabens and synthetic fragrances, it's not tested on animals, and it's cruelty-free.
PROS
It prevents the reoccurrence of acne by eliminating cellular debris, dirt, and excess oil
It's gentle on the skin
Works well for oily skin
Fragrance and paraben-free
It removes blemishes
Less irritation/ reddening
There is a 10% benzoyl peroxide formulation too
CONS
It's not clear if it works on sensitive skin or not
4. Oxy Acne Cleanser Maximum Strength
Oxy is a renowned brand when it comes to, and this cleanser is one of their best products.
Whether you're dealing with teenage or adult acne, this cleanser might be exactly what you need. It's a maximum strength formulation that kills the acne-causing bacteria saving you from painful years of acne.
While killing the bacteria responsible for the zits, it unclogs the pores allowing your skin to finally breath. Your skin cells need oxygen for regeneration and renewal. The unclogged pores make this possible, preventing breakouts while brightening the skin.
This cleanser lathers well, and it soothes the skin too, leaving you with fresh and healthy skin.
PROS
It works on the face and any other acne-prone parts of the body
It comes as a pack of three
Despite the 10% benzoyl formulation, it's gentle on the skin
Softens the skin
Works on oily skin and it also tones down the oiliness of the skin
CONS
It's not the right product for people with sensitive skin
5. Differin Daily Deep Cleanser
Are you looking for an acne solution that works on sensitive skin? Perhaps you should try this Differin Daily Deep Cleanser which is a 5% benzoyl peroxide formulation ideal for sensitive skin. At 5%, this formulation is effective as the 10% formulation (on normal or insensitive skin), but it comes with less dryness and minimal irritation. So, if you're looking for a powerful acne remedy/ cleanser that will not irritate your skin, this could be it.
This cleanser boasts dual action. As a micronized formula, it will penetrate deep into the skin pores, absorbing the excess oils, while preventing clogging of the pores by releasing its gently hydrating moisturizer. The use of this deep cleanser will, therefore, soften the skin while also brightening the scarred spots.
It's suitable for daily use, and it's made by dermatologists. Its deep action on the pores not only kills bacteria but also reduces inflammation of the cells.
It's easy to use, and you don't need a lot of it. Apply a small amount of this cleanser on your skin and let it sit for a few minutes to penetrate the pore and absorb excess oils, then rinse your face with warm water. After cleansing, moisturize the skin using a hydrating SPF Lotion. You could use an absorbing or a soothing moisturizer for the soothing of the skin.
Note that the cleanser will cause excessive drying if you leave it on for too long. Therefore, you should never leave it on for too long.
PROS
Ideal for daily use
It works on sensitive skin because of the low benzoyl peroxide concentration
It doesn't dry out the skin too much or cause too much irritation
CONS
It might not work well on your skin
Not a powerful exfoliant
6. Harris Benzoyl Peroxide Wash 5% Bottle
This Harris Benzoyl Peroxide Wash 5% Bottle is another acne treatment you might want to try. It has a 5% concentration of benzoyl peroxide meaning that it works well in eliminating acne, without causing too much irritation or drying.
This formulation treats acne by reducing and preventing the breeding of acne-causing bacteria. With the bacteria out of the way, you won't have to worry about constant breakouts. The low concentration of the active ingredient will also reduce the expected peeling and drying. You should, however, apply a light moisturizer after dying the skin to protect the skin from damage and too much dryness
this facial cleanser might also work well for you if you prefer the creamy formulations to the ones that lather.
PROS
This face wash helps in managing face oil
It prevents future acne breakouts
It works for sensitive skin, and it doesn't dry the skin too much.
It doesn't irritate the skin
It's creamy and easy to use
CONS
It doesn't work for all skin types
7. Claridad Benzoyl Peroxide Wash 2.5% Acne Treatment for Body & Face
This Claridad Benzoyl Peroxide, 2.5% Wash, is a micronized medical-grade acne treatment suitable for use on the face and the body.
It's a two-in-one formulation that helps you get rid of adult acne, face acne, chest acne, and back-ne. As a foaming deep cleansing face wash, it not only eliminates acne pimples and razor bumps but also helps in making your face less oily. Its deep cleansing action means that this face and body wash unclogs the skin's pores, removing dead cells and debris while preventing excess sebum accumulation. Using this product also eliminates or reduces the risk of skin breakouts in the future.
As a medical-grade cleanser, it means that this product is made with the highest quality and the safest ingredients which leave you with a healthier, cleaner, and clearer skin.
If you have acne-prone skin, you might like this cleanser because of the low benzoyl peroxide concentration of 2.5%. At this low concentration, the risk of irritation is too low.
But overall, this active ingredient will deliver its antibacterial effects into the skin's pores, getting rid of the acne-causing bacteria and germs that clog the pores and exacerbate acne. The cleanser also stimulates the growth of new cells reducing the appearance of blemishes, leaving you with clearer, cleaner, healthier, and very refreshed skin.
It's ideal for use by teens and adults, and you can use it in the morning or evening.
PROS
It works well for acne-prone oily skin
it could be used daily
It's fast-acting as a germ-killer
It prevents more breakouts in the future
It works slowly, but effectively
It reduces the appearance of blemishes
It causes minimal irritation
CONS
It doesn't work on sensitive skin or damaged the skin
8. Acnefree Oil-Free Acne Cleanser
If you never seem to catch a break when it comes to acne breakouts, this acne cleanser could be exactly what you're looking for.
A reformulation of the older Acnefree Oil-Free Acne Cleanser, this product has a smoother texture, it's finally free of menthol and beads, and it's thinner. Therefore, it's easier to use.
This acne cleanser works well on acne-prone skin thanks to its patented continuous-relief benzoyl peroxide which is micronized. In simple terms, this cleanser is a formulation made of tiny benzoyl peroxide molecules. Being smaller than the average size, the molecules are absorbed faster, and they result in the fast elimination of acne. Because of the small size, the molecules go deep into your pores, removing dead cells and debris, as well as excess oils. The molecules also penetrate deep into the pores, killing the acne-causing bacteria. The micronized molecules of benzoyl peroxide rank this product in the same category as the high-end acne cleanser, but at a very low price.
Note that the sebum reduction from this cleanser is something you might want to take with a grain of salt because this cleanser doesn't come with ingredients to reduce sebum production directly.
It is clear that its continuous relief formulation and the micronized benzoyl peroxide make this cleanser one of the best, and the most effective face washes for acne-prone skin.
Like the other benzoyl peroxide cleansers, this cleanser irritates the skin, and it's a little drying. Therefore, you must moisturize after cleansing.
PROS
It's effective in treating acne and preventing future breakouts
It's easy to use, and it has no beads
It works well
Super affordable
It doesn't cause too much irritation or drying.
CONS
It might bleach your skin
It's unsuitable for sensitive skin
9. Perrigo 10% Benzoyl Peroxide Acne Medication Face Wash
Perrigo might not be a big brand, but it's clear that the company has mastered the art of dealing with severe acne while preventing subsequent breakouts. This Perrigo 10% Benzoyl Peroxide acne medication is a face wash that helps you fight severe acne by killing the acne-causing bacteria. The active ingredient will also prevent further breakouts by exfoliating and cleansing, unclogging the skin's pores. By unclogging the skin's pores, this face wash creates an inhabitable environment for further bacterial growth, giving you control over the acne.
Depending on the tolerance levels of your skin, you can use this face wash once daily or every other day. It's important to note that the effects of the face wash will not be seen overnight. Therefore, you should be patient with yourself – the skin has to heal, and regenerate as the breakouts reduce and for the blemishes to disappear.
PROS
This product is ideal for use on acne-prone skin with severe acne
It works well for most skin types
It exfoliates the skin and encourages cellular regeneration, leaving you with clear and healthy skin
It's affordable
10. PanOxyl Foaming Acne Wash 10% Benzoyl Peroxide
This is yet another dermatologist-prescribed product for treating acne. It's a foaming face wash that works quite well on normal skin. You might also like to know that this PanOxyl Acne Wash 10% Benzoyl Peroxide is one of the top-rated acne washes in drug stores.
The catch and the main reason why I've not ranked this product at the top is that this face wash's formulation contains many potential irritants. Therefore, if your skin is sensitive or if you're allergic to some cleansers, this cleanser might not be the best fit for you. I recommend the use of this cleanser on normal and somewhat resistant skin.
Remember that the 10% benzoyl peroxide formulation will most certainly leave you with dry skin after use. Therefore, you must follow cleansing with a highly hydrating moisturizer.
You can use this cleanser on your face, back or chest. Thanks to its high concentration of Benzoyl Peroxide at 10%, this foaming acne wash kills the acne-causing bacteria, it removes dirt and debris from your skin pores, and it also removes excess dirt from your skin. Once unclogged, the skin is least likely to develop acne, and your skin will look healthier. It's also effective in preventing and reducing skin blemishes.
PROS
Suitable for normal skin
It's easy to use
It works fast, but you should not use it every day
CONS
Unsuitable for sensitive skin
It has parabens and even formaldehyde
It's strong, and it might irritate or burn your skin
Dries the skin very much
Things you should know before using Benzoyl Peroxide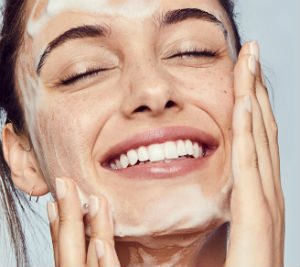 An over the counter benzoyl peroxide face wash might be your last option when it comes to acne breakouts, but it's not always going to work for you. You might end up with a face wash that works on oily skin or normal skin, and this means that the breakouts might worsen. Therefore, an understanding of some of the potential side effects of the face wash for acne is crucial. Some of the acne face washes worse breakouts.
Beware of the Side effects of Benzoyl Peroxide

Before you make a face wash with benzoyl peroxide part of your skin care regimen, you should never overlook the potential side effects of the cleanser or face wash. Below are some of the side effects you might experience:
Dryness of the skin – for skin that's not resistant enough or if it's sensitive, using a Benzoyl Peroxide might cause peeling off or cracking of the skin in blotches. The reason for this is that the cleansing action of the cleansers often disrupts the skin's moisture barrier.
Irritation or redness – again, if your skin is extra-sensitive, you might have to deal with very irritated skin. The irritation could be in the form or an itch, reddening, or a stinging feeling in the affected area. If you experience any of these, you should consider getting a high-quality moisturizer. Untreated, the irritation could dry out the skin, and this could cause breakouts.
When it comes to the use of face washes and cleansers, you need to make sure that you always moisturize the skin after rinsing off the cleanser. Moisturizing protects the skin's moisture barrier while also restoring pH. on the skin.
The use of the right moisturizer is also vital because it will counteract the side effects above and protect the skin. Hypoallergenic and non-comedogenic moisturizers are gentle, and they will prevent irritation of the skin. You should also opt for the lightweight moisturizers. If you use the face wash in the morning or during the day, use a moisturizer and complement it with a high-quality sunscreen.
Start with low-strength benzoyl peroxide products
Benzoyl Peroxide is often harsh on the skin and starting with the maximum strength varieties will leave your skin worse than it was. Acclimatize your skin and allow it to build natural tolerance. A 2.5% Benzoyl Peroxide cleanser formulation once daily or every other day is preferable to 10% formulations, once daily – if you're new to the product.
Note that if the peeling or dryness continues even after using the lowest concentration, you should either reduce the frequency of use or find an alternative product.
Don't expect overnight results
When it comes to acne treatment/ management, you should have realistic expectations. Even if the product works, you shouldn't expect a big change in the morning or after a day. Often, the results appear gradually.
Hydroquinone is the most popular skin whitening product, but it shouldn't be used at the same time with the face wash. Mixing these two ingredients could leave you with irregular/ uneven pigmentation.
Some of the Benzoyl Peroxide cleansers have unsafe and unfriendly ingredients like sulfates. Such cleansers should be avoided. Sulfates are found in dish soap, and they give the cleansers the foamy lather. However, sulfates only exacerbate skin breakouts because they strip the skin's moisture barrier, making it vulnerable to the worst breakouts.
Final Thoughts
While the Benzoyl Peroxide face washes and cleansers work well in treating acne, it doesn't always work for everyone. It's important to manage your expectations, understand your skin type, and find the product that works well for you.
Finally, clean your face/ skin with warm water not more than twice daily, and use your hands or a soft cloth.