If you're concerned about the hotly debated negative side effects of a common chemical sunscreen, you may be interested in checking into natural, organic sunscreens, which provide UVA and UVB protection without chemicals.
The benefits of using natural sunscreen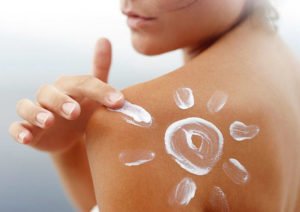 The biggest advantage to natural sunscreen is it's friendlier to the entire ecosystem – human beings included. Natural sunscreen's main ingredient is typically zinc oxide, which occurs in nature, and because of its skin benefits can be found in many beauty and skincare products – even foods, so its safety for humans in the right dosages has long been established. After all, it was one of the earliest forms of sunscreen, so you can think of it as tried and true.
Most natural sunscreens are also safe for our planet's endangered coral reefs. Some people may not be willing to go natural to protect themselves, but at least go natural for the reefs. Our entire planet depends on their survival and coral is dying off at a frightening rate. Reef protection, in the grand scheme of things, may be the most important reason to choose all natural sunscreen due to how important they are for our planet's health.
Most organic sunscreens shy away from other chemicals aside of the active ingredients, too, so you're really getting, generally, a completely natural and non toxic option, which is great for those who want to live as organically as possible.
Natural sunblocks tend to also be biodegradable, another eco-friendly nod, as well as friendly to animals, typically being cruelty-free and vegan.
Another benefit is it can be easier to tell when the sunscreen has washed away (like if you've been swimming), so you're more likely to know when it's time to reapply. Forgetting to reapply is often the main cause of sunburns. Whether you go chemical or natural, all sunblocks require reapplication – it's just easier to tell when it's time with natural ones.
Natural sunscreen reviews
1. Badger SPF 30 Unscented Sunscreen

Features
SPF 30
Badger's SPF 30 Unscented Sunscreen has, like the name says, an SPF (Sun Protection Factor) of 30. What that means is, when applied correctly, this SPF sunscreen can allow your skin to be exposed to the sun 30 times longer than it would normally take to burn your skin. Every person has unique skin and comes with their own healthy sunscreen, melanin, which determines the color of your skin before you tan. These and other factors like health problems or medications can alter how long SPF 30 lasts for each individual, but for the average healthy person, it's protection for a good 30 times longer than you could normally be outside without being burned.
Unscented
Fragrance, especially synthetic fragrance – is one of the most common causes of allergies to skincare and beauty products, like sunscreen. It's also an ingredient that isn't important to how well the product functions overall. Both of these reasons are why Badger and other conscientious brands choose to forgo scent with their products.
Natural formula
Badger sunscreen's active ingredient is zinc oxide. In nature, zinc oxide forms as the mineral zincite. Zinc oxide is a common ingredient in many products, even some foods, because of its overall general safety. It works as a natural sunblock by deflecting the sun's rays away from your skin, creating an effective barrier between you and our home star's radiation.
UVA and UVB
Because zinc oxide is such a powerful natural sunblock, it's able to block both UVA and UVB rays. These two forms of ultraviolet radiation are the primary cause of sun damage that can eventually turn into cancer over long periods of exposure, which is why quality brands like Badger ensure their product keeps both forms of ultraviolet light away from your skin.
Natural moisturizers
Zinc oxide is a pretty gentle organic sunblock, but to make it extra-friendly for sensitive skin, Badger has added natural moisturizers like shea butter, extra virgin olive oil, jojoba oil and beeswax to keep skin nice and healthy.
PROS
SPF 30
Blocks UVA and UVB rays
Unscented
Zinc oxide formula
Non-nano
Safe for kids
Natural ingredients
Moisturizing
Biodegradable
Water-resistant for 40 minutes
100% certified natural
94% certified organic
CONS
You have to reapply after you've swam or sweated a lot, but, unfortunately, this is a common issue with all sunscreens, whether natural or not.
2. All-Natural SPF 50 Biodegradable Visible Mineral Sunscreen by Tropical Sands

Features
SPF 50
An SPF rating of 50 means that your skin is able to withstand 50 times more exposure to the sun without being burned than if you were to go without wearing sunscreen, which is why it's an SPF rating that is often recommended by healthcare professionals.
Zinc oxide and titanium dioxide
The active ingredients in Tropical Sands' formula are zinc oxide and titanium dioxide – natural alternatives to standard chemical sunscreens. They both act by shielding your skin from the sun and reflecting harmful rays away from you.
UVA and UVB
The broad-spectrum UVA and UVB protection ensures your skin is protected against the two most harmful forms of ultraviolet light.
Environmentally friendly
Tropical Sands All-Natural SPF 50 sunscreen is 100% biodegradable and reef-safe, so you can be sure it won't do any environmental damage while you enjoy nature at its finest.
Hypoallergenic
Free from synthetic fragrance and hypoallergic, the Tropical Sands All-Natural formula is made with those who suffer from allergies and chemical sensitivities in mind.
PROS
Made in USA
100% biodegradable
Reef-safe
SPF 50
UVA and UVB protection
Safe for kids
Water-resistant
Non-nano
Hypoallergenic
No chemical fragrances
Coconut oil and shea butter naturally moisturize
Green tea sooths skin
CONS
Because it's made from two different natural sunscreens, it can sometimes leave behind a noticeable white layer. This is always true to an extent with zinc oxide formulas, and usually people with darker skin find it more noticeable, so if your skin is lighter, this may not be an issue for you.
Some have noted that it's not water-resistant, but it's possible that they were in the water long enough to simply wash it off – a problem common to all types of sunblocks.
3. Beauty by Earth Sunscreen Kit

Features
Face and body combo
The Beauty by Earth Sunscreen Kit comes with an SPF 20 sunscreen for face that has natural moisturizing benefits as well as an SPF 25, long-wearing body sunscreen too. The face sunscreen is actually moisturizing enough that it can be used instead of moisturizer under your makeup, doubling its utility.
Eco-friendly
Vegan and cruelty-free, the Beauty by Earth products are also safe for reefs and marine life, and are certified as being safe for use in eco parks.
Broad-spectrum protection
Both the face and body sunscreens from Beauty by Earth are broad-spectrum, protecting against both UVA and UVB radiation.
Soothing ingredients
Aloe vera, green tea and cucumber are among the many soothing, natural botanicals that make up Beauty by Earth's sunblock formula; the goal is to naturally soothe skin that is recovering from past damage while protecting skin from future damage.
Moisturizing
Beauty by Earth's formula is explicitly intended to have anti-aging benefits, and one of the ways in which that is most vividly illustrated is in their robust usage of organic, vegan oils and butters to craft a deeply moisturizing natural sunscreen. Coconut oil, sunflower seed oil, argan oil, and shea butter, among others, act as organic moisturizers to promote a youthful glow.
PROS
Two-in-one face and body sunscreen kit
UVA and UVB protection
Natural ingredients to soothe skin
Natural moisturizers fight signs of aging from past sun damage
Child-safe
Reef-safe
Eco-friendly
Facial sunscreen doubles as moisturizer and can be worn under makeup
CONS
According to the directions, you have to reapply every 45 to 60 minutes. While reapplication is always necessary if you're going to be outside more than a couple of hours – or if you get wet – 45 minutes is on the short side.
4. Kiss My Face Kids Mineral SPF 30 Natural Organic Sunscreen

Features
80-minute water-resistance
Kiss My Face Kids Mineral SPF 30 Natural Organic Sunscreen is water-resistant up to 80 minutes. While water-resistant does not mean waterproof, what it does mean is that you get more protection while in the water than you would with a non-water-resistant sunscreen, which makes it a great option for families who are very active – especially with regards to swimming.
SPF 30
A Sun Protection Factor of 30 is a good choice for those who intend to be outdoors longer than an hour or so; the higher the SPF, the longer you can theoretically enjoy the sun without being exposed.
Contains superfruit extracts
The superfruits pomegranate and goji berries are known for their high levels of antioxidants. Antioxidants protect your body on a cellular level; they don't replace sunscreen, obviously, but when used in tandem, you get the extra benefits of protection from free radicals. Plus, they're naturally vitamin-rich, promoting skin elasticity.
100% mineral sunscreen
The Kiss My Face Kids formula is made from 100% mineral-based sunscreen, with no nano minerals involved in the production process.
Vegan
This formula is both vegan and cruelty-free and is a great ethical choice for those who oppose animal products and testing.
PROS
SPF 30
UVA and UVB protection
100% mineral formula
No nano minerals
80-minute water-resistance
Pomegranate
Goji berries
Paraben-free
Phthalate-free
Cruelty-free
Vegan
87% certified organic ingredients
CONS
The manufacturer notes that there will definitely be a slight whitish tint on your body if you've applied this properly. You can minimize these effects by being sure to rub it in nice and evenly, but this is an issue that all natural sunscreens have, because natural ingredients like zinc will leave behind a whitish residue when applied in quantities that offer sun protection. So, it's kind of one of those things that you have to overlook in general if you want a natural sunscreen, and it's nice that the manufacturer is upfront about this widespread natural sunscreen issue when other brands try to hide it.
5. Goddess Garden Organics Everyday SPF 30 Natural Sunscreen

Features
SPF 30
Goddess Garden's natural sunscreen formula boasts an SPF of 30, which is great for a daily sunscreen—especially when you factor in its broad-spectrum, UVA and UVB protection.
80-minute water-resistance
The 80-minute water-resistance in this sunscreen make it a great option not only for water sports enthusiasts, but other active people; sweat is a common reason why sunscreen appears to note be working, so the 80-minute water-resistance feature will give you a longer window before the sweat works its way through the sunscreen and you have to reapply.
Eco and animal-friendly
This is a reef-safe sunscreen that is also made from non-GMO ingredients, is biodegradable, cruelty free, and vegan.
PROS
SPF 30
UVA and UVB protection
80 minutes of water-resistance
Eco-friendly
Reef-safe
Cruelty-free
Vegan
Non-GMO
Certified organic
Biodegradable
Paraben-free
Alcohol-free
Chemical-free
Non-nano
CONS
This formula is a lot thicker than some of the others out there, so it can be trickier to apply; fortunately, Garden Goddess offers application tips to help customers get the hang of it.
Conclusion
The winner of this roundup of best natural sunscreens was an easy choice to make: Badger SPF 30 Unscented Sunscreen. Badger takes the cake for being consistently effective, completely natural, made of quality ingredients, and ticking all of the eco-friendly boxes like being reef-safe, cruelty-free and non-nano.
Tips on choosing the best natural sunscreen

There are a few things to consider when choosing the best all natural sunscreen for your needs. Keep the following in mind:
Always look for a reef safe certification if you're going to be near a reef.
Match the SPF factor to how long you will be outdoors.
No sunscreen is waterproof; however, water-resistant sunblocks will give active people a longer window before they have to reapply it.
If you're worried about looks (such as white residue), choose a formula that is easy to rub in. All will leave a slight residue, but better natural sublocks tend to be able to mitigate this by being able to be applied in a thin, blended layer over the skin.