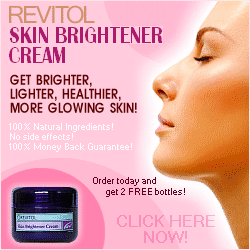 Revitol skin lightening cream is manufactured from natural herbal extracts of different plants. Unlike some other brightening creams, it contains all natural ingredients to ensure that the skin's complexion of the user is lightened and improved physically. The use of natural plant extracts guarantees safety on the user's skin. It also incorporates non-chemical ingredients that have the ability to fight skin wrinkles, age spots, sun spots, uneven skin pigments as well as awful birth marks.
To ensure a good look of the skin, it has different skin moisturizers and vitamins to enhance equal skin nourishment. On the other hand, the cream's natural properties have been found to be effective in elimination of dead cells on the skin that may lead to development of wrinkles.
Ingredients
1. Allantoin
The cream contains allantoin which a naturally occurring ingredient in plants. It has the ability to smoothen and improve the skin's appearance through its moisturizing properties. It also attacks all the skin's deadly bacteria that could ruin the the skin's texture and appearance .
2. Lumiskin
Chilean tree is known to contain several natural ingredients and one of them is lumiskin which is extracted in form of a solution. Research has shown that this solution tends to limit and control the melanin growth on the skin that makes people darker. Thus, it ensures equal distribution of melanin to enhance the skin's complexion.
On the other hand, the solution is also effective in relieving the skin from stress receptors to ensure that the skin's colour gained after using the cream is restored.
3.Shea Butter
This is one of the best skin moisturizers used in different skin products. Revitol contains a high percentage of Shea Butter due to its multipurpose functionalities such as:
Protecting the skin against dehydration: Since Shea Butter's stronghold is keeping the skin moisturized, using this cream keeps the skin moist all through at all times.
Protecting the skin against dangerous UV rays which lead to sun burns and sun spots on the skin
Enhances faster skin Healing processes: It has been scientifically proven that if you have recurring pimples or your skin takes longer to heal after an injury, application of Revitol cream facilitates faster healing process.
Skin Regeneration Properties: Shea Butter facilitates skin recovery immediately after being used. Sometimes the skin could be torn due to increased number of dead cells but once the cream is applied, it removes all the dead cells while regenerating a softer and good looking top skin's layer.
4. Arbutin
This is derived from the pears and what's skin. Also, it is found in bearberry plants. It has the ability to:
Eliminate all the dark areas on the skin: Skins sometimes have dark birthmarks, scars obtained from injuries, healed pimples etc. Arbutin gets rid of all these dark spots after a week according to the manufacturer making the skin lighter.
Destruction Of Radicals: Radicals are substances that attack the skin's top layer and lead to development of wrinkles, spots etc. This natural ingredient clears all harmful substances on the skin.
5. Other Ingredients
This skin lightening cream contains other natural plant based ingredients to enhance effectiveness. They include
Z-whitener
Evening primrose oil
Vitamins A, C and E
Liposome and dimethicone
Glyceryl stearate
Carbomer
Click here to visit the official site
Pros

This product is made from natural plant ingredients and hence it does not have any side effects
Improves Skin Complexion – Revitol has the ability to get rid of dead cells on the skin, wrinkles, age spots, sun spots and dark spots. This improves the skin's color, complexion and texture by making it lighter and healthier.
Protects the skin against dangerous UV rays and attack by bacteria or toxic substances – the cream contains very powerful ingredients that have different vital functionalities to protect the skin against any external attacks.
Cons
Not recommended for pregnant women – if you are expectant, avoid this cream at all costs. It is feared that the cream might negatively impact on the child of the unborn though the speculation is still under research.
In overall, Revitol is a successful skin bleaching product since it effectively delivers expected results without negative effects. Regular and constant usage is however advisable if one has to achieve maximum results. If you wish to lighten your skin, then Revitol cream is the way to go.