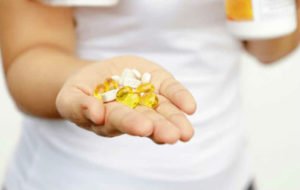 Even if you don't know what they are, probiotics seem to be being marketed everywhere. Turn on the television or open a magazine and you are bombarded with adverts telling you how you need to get rid of bad bacteria and redress the balance in your body.
Or you might even have a health issue and your doctor has mentioned probiotics as something to try to help get "friendly bacteria" back into your digestive system.
And of course you probably got that best friend who swears by using a female probiotic claiming it's the reason they can leap about with the energy of a teenager.
But what are probiotics exactly? Are they beneficial or just another load of advertising rubbish?
Why Probiotics Are Best For Women
To keep it really basic, probiotics are friendly bacteria that live in your body, especially in the digestive tract, otherwise known simply as the gut. After your stomach come the small and large intestines, which process the food you eat, absorbing nutrients as it passes through and out of your body.
These friendly bacteria help that process by keeping your gut in good condition. They also help to stop bad bacteria from dominating. An average person has around 40 trillion bacterial cells in their gut, of which the majority need to be friendly.
On top of that, probiotics can help with vitamin production and strengthening the body's immune function. Unlike male specific probiotics, they are best for women because they can help with hormonal balance as well.
The other key reason why women would look to take a probiotic is to do with health in the vagina and urinary tract. These are two areas of the female body where problems often arise, and more and more women are finding that they can maintain a healthy balance in these areas.
Probiotics are being found to reduce bacterial infections, especially things like cystitis and BV, by taking a daily dose of probiotics to help balance the bacteria in those areas of the body.
What Type Of Probiotic Should A Woman Take?
Whichever type of probiotic you take, you are basically trying to replace the good bacteria in your body, or introduce strains of bacteria which can help them. The main types of friendly bacteria that we have in our bodies are:
Lactobacillus (found in milk sugar)
Bifidobacterium (key for creating a barrier in the gut against infection)
Bacillus
Streptoccocus
Although all of these are ingested with normal food, if you are deficient in health or digestion then you can be short of these types of bacteria.
If you are looking for the best probiotics for specific female problems, the types of bacteria which have generally been found in studies to be beneficial for specifically female problems are:
Vaginal & urinary tract health: Lactobacillus strains
Bowel health & IBS: Bifidobacterium strains
Immune system health: Streptoccocus & Lactobacillus
In terms of buying the best female probiotic, you are looking for a high CFU count, which stands for colony-forming units. The higher the better. At least 10 billion, but some brands contain 60, 70, 80+ billion CFU's.
You are also looking for capsules that are coated. This is because stomach acid can destroy the bacteria before they reach the gut, the special coating keeps more of the bacteria intact as they pass out of the stomach.
Let me now give you my six top picks of the best probiotics for women that are affordable and have high CFU counts.
Top 6 Probiotics For Women
1. Naturewise Probiotics for Women

Naturewise produce a great range of probiotic products, but this is the cream of the crop. It contains everything we have talked about for being a great probiotic for women's health:
90 billion CFU count
Time-release, special-coated tablets
Contains cranberry for vaginal health
Naturewise have produced a powerful blend of eight probiotics that have been proven in studies to benefit women's vaginal, urinary tract, digestive and immune system health.
I guess it makes sense if you're looking for the best probiotic for women's health, to go for a brand that contains pretty much everything, which this high quality probiotic blend does.
What's interesting is that this probiotic actually only contains a 6 billion CFU count. However, the company claim that the special coating on the tablets makes the bacteria delivered to the gut more numerous than a standard 90 billion CFU tablet, allowing them to claim that is equivalent to that amount of bacteria.
We also like how they have included cranberry extract as well, which is well known to help females with urinary tract infections, and along with vitamins included as well, this is a powerful package of probiotics, plus more.
One of the reasons it's at the top of our list is it very strong customer feedback. It has an incredible amount of positive feedback, and people simply wouldn't be giving it if they weren't feeling the benefits.
PROS
Contains cranberry for vaginal health
Contains vitamins
Special-coated time release tablets
8 strains targeted for female health
CONS
Pills are little chalky, making it harder to swallow
Some consumers have noted close to expired date when shipped to them
2. PRO-Women: Probiotics for Women with Cranberry Extract & 100% Naturally-Occurring D-Mannose

This is another high quality probiotic blend from reputable company that has been formulated especially to target female problems. They claim that this product can deliver up to 15 times more positive flora into the gut than other brands with no coated tablet, due to a patented delivery system.
The pills themselves are small and easy to swallow, which can be an important consideration for some people, and you get a decent amount in the bottle for the money.
This high quality probiotic has made our top six because it contains a significant list of positive features and benefits:
Advanced urinary tract support
Six targeted probiotic strains
Equivalent to 75 billion CFU
Naturally derived probiotic
Long shelf life
One per day capsule release system
In terms of urinary tract health it contains both cranberry extract and D-Mannose. These are natural forming sugars which work their way through the urinary tract, attracting bacteria in the urinary tract and carrying them out of your body. Neither of these substances affect blood sugar level so are ideal for diabetics.
This product allows highly targeted use because it has a patented delivery system called BIO-tract. In tests against standard probiotic pills, it allowed 60% more of the contained bacteria deep into the digestive tract.
This product has very good customer feedback, so you can at least be assured that people are using it and benefiting.
PROS
Time release capsules
No need to refrigerate
Organic, natural ingredients
CONS
Large capsule size, which makes it harder to swallow
Contains casein – so n
3. Vitamin Bounty Womens Daily Probiotic – 10 Billion CFUs Per Serving

When it comes to choosing the best probiotic for women's health, you need to choose products that have genuinely been created for that purpose, rather than a general probiotic. That's why we love Vitamin Bounty daily probiotic.
It has been designed with five specific strains of life culture that target the key areas that women need support with. On top of that, it also contains some key extracts and minerals that can have general beneficial health benefits.
In terms of the specific features of this specialized daily probiotic:
Specially formulated for women's health
Contains five specific strains of life culture
10 billion CFU per pill
Naturally fermented product
Also contains prebiotic FOS the general system health
The five specific strains of live bacteria culture this product contains have been linked strongly to women's health, especially digestive tract and vaginal health:
Rhamnosus (gg),
B. Lactis,
L. Salivarius,
L. Gasseri,
L. Reuteri
As always, it pays to look at what real people are saying about a product, especially a health product like a probiotic where it can be a very individual experience.
On Amazon, from 866 ratings at time of writing, 88% giving a five-star review.
Many of these talk about how it has helped to improve vaginal health and reduced instances of urinary tract infections. If you are looking to try a specialist probiotic, then Vitamin Bounty probiotics is certainly one you should look at.
PROS
5 strains specific for women's health
Contains prebiotics
Contains key extracts and minerals
Naturally fermented
CONS
2 capsules daily
Should be taken with meals
4. Garden of Life Dr. Formulated Once Daily Women's Probiotics

If you're looking for a brand of woman probiotics that can deliver a double punch, then this product from Garden of Life could be what you're looking for.
Not only does it contain a 50 billion CFU delivered through a strong capsule to survive the passage through the stomach, but it is also packed with an incredible 16 individual strains of good bacterial flora.
If you looking for the best female probiotic, then this specialist formula, one per day product could really help, as it has the following specific features:
Contains probiotics that help with digestion
Contains probiotics linked with feminine health
High CFU can really help with immune system health
All natural and hypoallergenic, GMO verified
16 distinct individual positive bacterial strains
Although all probiotic products will have medical expert support, it's interesting that this product is promoted as created by a certified doctor in the field:
"David Perlmutter, M.D., is an expert in the human microbiome, a board-certified neurologist, Fellow of the American College of Nutrition, America's brain-health expert and #1 New York Times best-selling author."
Whether this helps the product to be more effective or not is obviously open to debate, but it's also obvious that it can't hurt, and it could be a big positive.
User feedback on Amazon is really good, with 68% giving five-star reviews. Not quite as high as some of the other brands, but still incredibly positive competitor a lot of health supplements. If you are looking to try a product that is specially blended to address women's intimate health, then Garden of Life is certainly a strong starting point.
PROS
Gluten free &
16 bacterial strains
5. Culturelle Women's Healthy Balance Probiotic

Culturelle Women's Healthy Balance Probiotic is another high quality, highly recommended brands containing all the features we discussed around targeting women's health issues that can potentially be corrected through use of probiotic bacteria formulas.
By taking just one capsule a day you can target urinary tract, vaginal, digestive and immune system health.
In terms of the specific features of this probiotic that make it potentially one of the best on the market:
Contains five distinct proven strains of probiotic
A single daily capsule rather than usual two makes it cost-effective
Dairy free
Gluten-free
Sugar-free
Guaranteed potency until expiration date
15 billion CFU count
An interesting feature of this probiotic is that it states is completely safe for pregnant women to use. This is not something the other brands do.  This is to do with the culture count.  The lower culture count allows pregnant women to benefit, while still retaining enough power in its punch to target the areas every woman needs in terms of increased friendly bacteria.
So although this isn't marketed as containing a high count of friendly bacteria, and in comparison to some of the other brands recommend it is lower, those bacteria are the exact ones needed to help with the key female issues, and on top of that, pregnant women can benefit from the advantages of taking a probiotic without having to seek medical advice.
PROS
5 clinically proven strains
One capsule daily
Focus on digestive, immune and vaginal health
Gluten and sugar free
CONS
Continued daily use is suggested for optimal results

Some users have reported cramps and stomach aches
6. Renew Life – Ultimate Flora Probiotic Women's Care

The last in a list of the top probiotics for women is another specialist probiotic for women's health blend, from Renew Life.
Ultimate Flora probiotic women's care packs a huge punch for the price and contains everything we talked about to get the best potential benefit from taking a female focused probiotic:
90 billion CFU count
Vegetarian friendly capsules
Specifically designed to combat yeast infections
Aids digestive discomfort and supports balance
Delayed release capsule system for targeting release in the gut
12 targeted strains of friendly bacteria
Designed with simplicity in mind, you simply take one capsule a day. It's vegetarian friendly and there are no fillers, just the active ingredients you need.
Customer reviews for this probiotic formula are very positive with 75% of people who have left a review giving it five stars and a positive comment.
It's very competitively priced in comparison to some female probiotics, and has a strong following of repeat customers. It doesn't require refrigeration and has a long shelf life, making it ideal for purchase and storage in any climate.
If you're looking for a high quality female oriented probiotic that can target all the problems we have talked about, through a targeted delivery of multiple strains of friendly bacteria, then Ultimate Flora probiotic is certainly one you should be looking to try.
PROS
12 female health targeted strains
Vegeterian friendly ingredients
Delayed time release formula
Once daily capsule
Conclusion
With so many great choices we know it can be confusing making a decision on which probiotic could be the best choice for your health needs. Eventhough Naturewise probiotics for women is the winner of this roundup, keep in mind the fact that product which works for you may not work for everyone. Some people report no benefits, or gas and bloating with one brand, only to switch and find they get the benefits they wanted from another.
It's all down to the different strains of bacteria, and experimentation. Some people even recommend changing the probiotic you take every few months to make sure your body gets a good balance of all the different types of friendly bacteria.
Now obviously this isn't a problem if you take one of our recommendations with a high strain count, but you could also suffer negative problems from some of the other strains.
So it might benefit you to start with a larger group of friendly bacteria in your product choice and then if you do encounter problems try more targeted products with less strains to see which one produces positive but no negative benefits.
Do You Need To Take A Probiotic?
Although you can get probiotics completely naturally, as we have done for the whole of our history, the problem nowadays is that our lifestyles have changed dramatically in a short space of time, along with the types of food we routinely eat.
On top of that, although modern medicine is amazing, antibiotics prescribed to destroy bacterial infections also destroy good bacteria which take time to then dominate again. That's why women who are prescribed antibiotics shortly afterwards have an increase in conditions like cystitis and BV/yeast infection.
So whether you have had antibiotics recently, have any sort of intestinal or digestive problem, or you are just living a fast modern lifestyle, then yes taking a probiotic can potentially really help.
Put it this way, it can't hurt because any excess is just ignored by the body. Basically most probiotics don't stay in your body in the way our key resident bacteria does, but as they pass through they help these good bacteria and they help to remove bad bacteria as they pass out of your system.